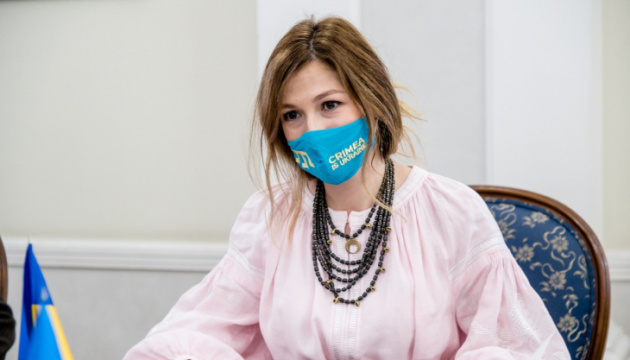 Occupiers torturing Crimean Tatars detained on trumped-up "sabotage" charges – deputy foreign minister
Crimean Tatars' Mejlis Deputy Chairman Nariman Dzhelyalov and the Akhtemov cousins, earlier detained by the FSB in the occupied Crimea, were subjected to torture and denied access to lawyers.
That's according to a Facebook post by First Deputy Foreign Minister of Ukraine, Emine Dzheppar.
"After Nariman Dzhelyalov and the Akhtemov brothers' whereabouts were discovered, independent lawyers were denied access. My sources claim that the detainees are being tortured. They are being subjected to illegal investigation tools, psychological and physical pressure. We see this as revenge for their participation in the inaugural summit of the Crimea Platform on August 23," Dzheppar wrote.
She also stressed that everything is being done according to the usual scenario of case falsification by Russian occupiers, recalling that on August 23, the day the Crimean Platform was launched in Kyiv, the gas pipeline was damaged near the village of Perevalne, Simferopol district, which for some reason had been supplying gas to a military unit in Perevalne). The case on intentional destruction of or damage to property under Part 2 Article 167 of the Criminal code of the Russian Federation, was initiated to search for those involved in the incident.
"Those involved", for some reason, were found just after Nariman Dzhelyalov's return from Kyiv, where he participated in the Inaugural Summit of the Crimea Platform. As per the fabricated charges, he turns out to be a saboteur and accomplice to the crime, while the Akhtemov cousins ​​– sabotage perpetrators," Dzheppar said, adding that these charges imply imprisonment for up to fifteen years.
As reported earlier, on September 3 and 4, five Crimean Tatars – Eldar Odamanov, Nariman Dzhelyalov, Aziz Akhtemov, Asan Akhtemov, and Shevket Useinov – were taken in an unknown direction amid the raids by Russia's FSB in the occupied Crimea. Only later, on September 4, came the reports that the men were being held at the FSB HQ in Simferopol. Families and lawyers of the held men gathered for a rally outside the FSB premises on Franka Street.
According to the Chairman of the Mejlis of the Crimean Tatar people, Refat Chubarov, Nariman Dzhelyalov is being held at the FSB office in Sevastopol.
The Ministry of Foreign Affairs of Ukraine has strongly protested the continued illegal raids and detentions in the temporarily occupied Crimea.
President Volodymyr Zelensky sees this as Russia's reaction to the launch of the Crimea Platform, and demands that those detained be released.
im