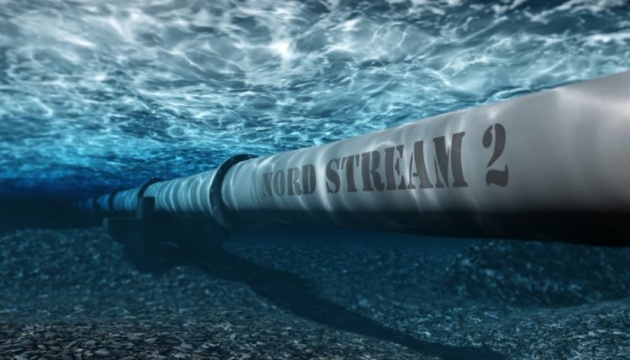 U.S. guarantees sanctions on Nord Stream 2: President names conditions
The United States could impose sanctions on Russia's Nord Stream 2 gas pipeline project if it is launched and a threatening energy situation arises for Ukraine.
That's according to President Volodymyr Zelensky of Ukraine who spoke at a press conference in Washington following the summit with U.S. President Joe Biden, an Ukrinform correspondent reports.
So far, we are at the stage where President Biden personally guarantees that, if on the part of the Russian Federation or other sides, other parties to Nord Stream 2, in the event of its launch, if anything is violated by these countries, which could lead to a dangerous situation due to energy issues for Ukraine, the United States guarantees that sanctions will be imposed against Nord Stream," said President Zelensky.
The Ukrainian leader added that at the moment this issue is "difficult and fragile," it is yet to be "spoken through."
At the same time, the president said that, following talks with Joe Biden, he had a meeting with the Congressional Ukrainian Caucus, where the issue of Nord Stream 2 was also discussed. Zelensky assured that in this group of congressmen, Ukraine has "100% and even more" support.
As reported, President of Ukraine Volodymyr Zelensky is on a working visit to the United States. On Wednesday, Volodymyr Zelensky's summit with Joe Biden lasted for nearly two hours.
Memo
Nord Stream 2 is a Russian gas pipeline being built bypassing Ukraine. It is being laid along the bottom of the Baltic Sea from Russia to Germany. The project's sole shareholder is Russia's OJSC Gazprom.
In July, Germany and the United States reached an agreement regarding Nord Stream 2, according to which the United States would not oppose the completion of the pipe, while Germany undertook to impose sanctions on Russia if Moscow went for another round of aggression against Ukraine, as well as to assist Ukraine in energy transformation efforts.
In August, Nord Stream AG, the construction operator of Nord Stream 2, lost a case in a German court to exempt the pipeline from the requirements of the EU gas directive.
im