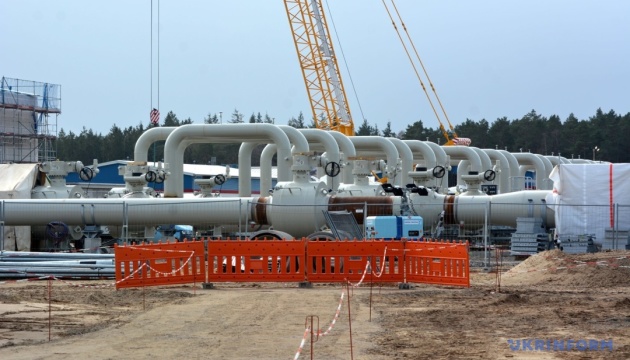 European Commission ready to discuss with Ukraine format of consultations on Nord Stream 2
The European Commission has reaffirmed readiness to discuss with Ukraine authorities the acceptable modality of consultations as regards the Nord Stream 2 gas pipeline, which would not overlap with the existing energy initiatives within CESEC (Central and South Europe energy connectivity).
That's according to Tim McPhie, European Commission's Spokesperson for Climate Action and Energy, who responded to Ukrinform's inquiry.
"We are in regular contact with the Ukrainian authorities on many subjects, including energy issues. We look forward to discussing with our Ukrainian counterparts how to best follow-up on their request for consultations. We sent a reply to our Ukrainian counterparts indicating readiness to discuss and pursue ongoing dialogue on energy-related issues. We need to discuss the most appropriate modalities for these consultations, while avoiding technical consultations overlapping with existing energy initiatives (e.g.: discussions within CESEC and Energy Community framework)," the spokesperson said.
He has also confirmed that the European Commission had received on July 22 a note verbale from the Ukrainian Ministry of Foreign Affairs, in which Kyiv requested consultations referring to Articles 274 and 338 of the EU-Ukraine Association Agreement.
The official recalled that the articles evoked refer to "cooperation on infrastructure" under the trade-related energy chapter of the DCFTA title and to "energy cooperation" under the Title on Economic and sector cooperation.
"The EU continues to attach great importance to Ukraine's energy security, McPhie stressed. "We remain fully available to discussing any issues of concern for Ukraine."
At the same time, he refrained from answering a question of whether the Commission is concerned about the current overly exaggerated gas and whether he believes Russia's moves on the market are an attempt to put pressure on the EU ahead of the Nord Stream 2 launch and the related peculiarities of applying the EU's Second Gas Directive.
The spokesman said the European Commission "follows the situation closely, but does not make comments on market movements and prices."
im