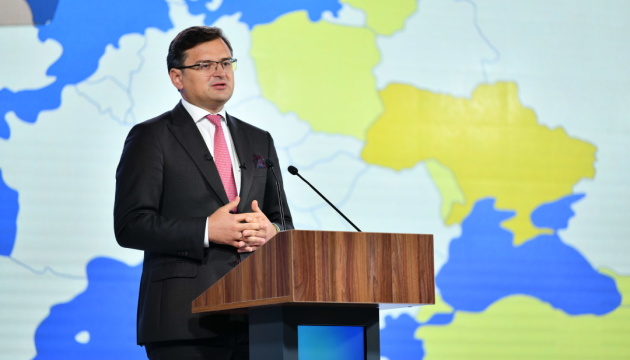 Forty-four countries and organizations: full list of Crimea Platform participants announced
Forty-four foreign delegations will take part in the inaugural summit of the Crimea Platform. Fourteen foreign delegations will be led by heads of state and government.
"On August 23, 44 countries and international organizations, including 14 heads of state, government, and the European Union, will become the founders of the Crimea Platform," Minister of Foreign Affairs of Ukraine Dmytro Kuleba said at an online briefing on Thursday, an Ukrinform correspondent reports.
In particular, Latvia, Lithuania, Estonia, Poland, Slovakia, Hungary, Moldova, Slovenia, and Finland will be represented at the level of presidents. The President of the European Council will also take part in the Crimea Platform.
Romania, Georgia, Croatia, and Sweden will be represented at the level of prime ministers.
Two countries – Switzerland and the Czech Republic – will be represented by the speakers of parliaments.
Fourteen countries will attend the summit at the level of foreign ministers: Turkey, France, Germany, Spain, Italy, Belgium, Austria, the Netherlands, Luxembourg, Ireland, Denmark, Bulgaria, Montenegro, and North Macedonia.
Britain and Portugal will be represented by defense ministers, while the United States will be represented by the transportation secretary, a special envoy of President Joe Biden.
Norway will be represented by the Secretary of State to the Ministry of Foreign Affairs.
The European Commission will be represented by Vice President Valdis Dombrovskis, NATO – the Deputy Secretary General, the Council of Europe and GUAM will be represented at the level of the Secretary General.
Seven countries – New Zealand, Malta, Japan, Australia, Cyprus, Canada, and Greece – will be represented by ambassadors.
"So, a total of 44 foreign delegations and 45 participants together with Ukraine. I want to emphasize that these countries become the founders of the Crimea Platform regardless of the level of representation," the Ukrainian minister emphasized.
He also noted that the Crimea Platform had already surpassed all previous international events hosted by Ukraine in the number of high-level delegations represented at the summit.
"Ukraine has never hosted such an international event before," Kuleba said.
The Crimea Platform is a new consultative and coordination format initiated by Ukraine to step up the efficiency of international response to the occupation of Crimea, respond to growing security challenges, increase international pressure on Russia, prevent further human rights violations, protect victims of the occupation regime, and achieve the main goal: to de-occupy Crimea and restore Ukraine's sovereignty over the peninsula.
The Platform is to operate at several levels: heads of state and government, foreign ministers, inter-parliamentary cooperation, expert network.
The activity of the Crimea Platform will be officially launched at the inaugural summit in Kyiv on August 23, 2021.
ol