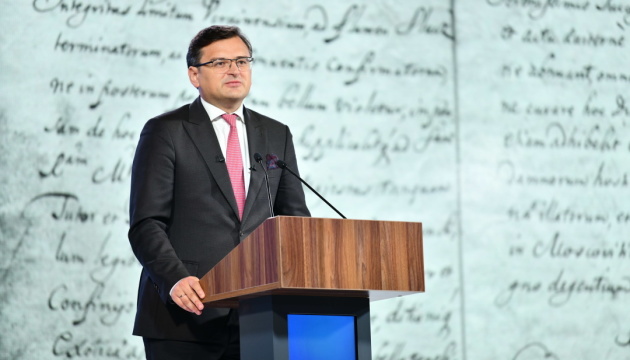 Kuleba "satisfied" with Lavrov's nervous reaction to Crimea Platform
Foreign Minister Dmytro Kuleba says he is satisfied with what he calls is a "nervous" reaction by Russian top diplomat Sergei Lavrov to the Crimea Platform initiative.
The comment came during Kuleba's video conference briefing on Friday, August 13, an Ukrinform correspondent reports.
"Yesterday, Sergei Lavrov, the Minister of Foreign Affairs of the Russian Federation, unlawfully visited the Ukrainian Crimea. There he made a number of angry statements about the Crimea Platform – labeling it a "sabbath" and "concursion." I won't hide, I'm satisfied with this nervous reaction. As Mahatma Gandhi said, "First they ignore you, then they laugh at you, then they fight you, then you win," Kuleba said.
According to the chief of Ukraine's diplomacy, Russia has already successfully overcome the first two stages and is currently at the third one – actively fighting Ukraine.
"And the fourth stage will definitely come, and it will be the stage of the Ukrainian victory and the return of the Ukrainian Crimea," the foreign minister is convinced.
As reported earlier, the total number of participants in the inaugural summit of the Crimea Platform has increased to 40.
On August 23, Ukraine's Jamala will open the Crimea Platform summit in Kyiv, performing her song "1944," which was Ukraine's Eurovision entry in 2016, winning the contest that year. The song is inspired by the tragic events of the mass deportation of Crimean Tatars, the indigenous people of Crimea, from the peninsula to distant areas of the Soviet Union in 1944.
On August 6, an inaugural forum of the Crimea Platform international expert network was held in Kyiv.
The Crimea Platform is a new consultative and coordination format initiated by Ukraine to step up the efficiency of international response to the occupation of Crimea, respond to growing security challenges, increase international pressure on Russia, prevent further human rights violations, protect victims of the occupation regime, and achieve the main goal: to de-occupy Crimea and restore Ukraine's sovereignty over the peninsula.
im