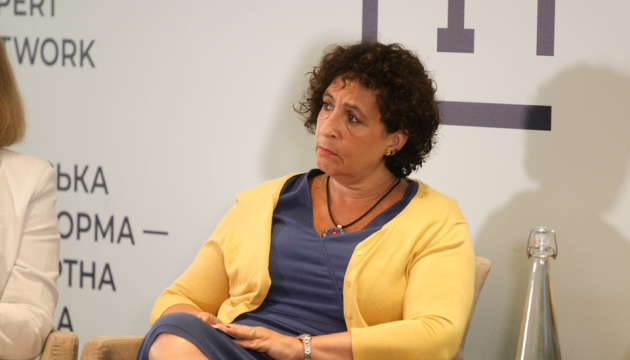 UK will actively support Crimean Platform's work after inaugural summit - ambassador
The United Kingdom actively supports the launch of the Crimean Platform initiative and will be in close contact with Ukraine on its future activities, British Ambassador to Ukraine Melinda Simmons has said.
She said this at the inaugural forum of the Crimean Platform expert network in Kyiv on Friday, August 6, according to an Ukrinform correspondent.
Simmons stressed that Britain does not, and will not, recognize Russia's annexation of Crimea and called for maintaining international pressure on Russia for its actions in 2014 and for what has been happening in Crimea since then.
"We need to keep reminding the world that Crimea is, and always will be, Ukraine. That is why the United Kingdom welcomes Ukraine's active efforts on the Crimean Platform. This platform has been created to unite and strengthen international efforts to resist Russian aggression and to restore Ukraine's territorial integrity. The Crimean Platform will help the international community demonstrate their strong and unequivocal position on the Crimea issue, better coordinate joint actions, policies and projects in support of Crimea, and keep the Crimea issue on the agenda. We are proud to have been able to provide support to Ukraine during the creation of the platform. [...] We look forward to the grand opening of the Crimean Platform on August 23 and will be in close contact with Ukraine regarding its further activities," Simmons said.
She said that the expert network would play a crucial role in the work of the Crimean Platform. According to her, the international community relies on expert information, analysis and advice to better understand the situation on the peninsula and decide on how to maintain pressure on Russia.
"Without this expertise, our knowledge base, our politicians and positions in multilateral fora will be much weaker. Thanks to information and regular reports, individual testimonies of human rights violations in Crimea provided by NGOs, the UK and international allies can call Russia to account for violating the rules of treatment of political prisoners. This allows us to raise specific issues of human rights violations in our discussions within international organizations such as the UN or the OSCE," Simmons said.
She also expressed confidence that conferences, reports and recommendations from the expert network would allow the international community to better support Ukraine in Crimea-related issues.
As Ukrinform reported earlier, 32 countries have already confirmed their participation in the inaugural summit of the Crimean Platform, due to be held in Kyiv on August 23, 2021.
The Crimean Platform is a new consultative and coordination format initiated by Ukraine to increase the effectiveness of the international response to the ongoing occupation of Crimea, intensify international pressure on Russia, and achieve the main goal – de-occupation of Crimea and full restoration of Ukraine's sovereignty over the peninsula.
op