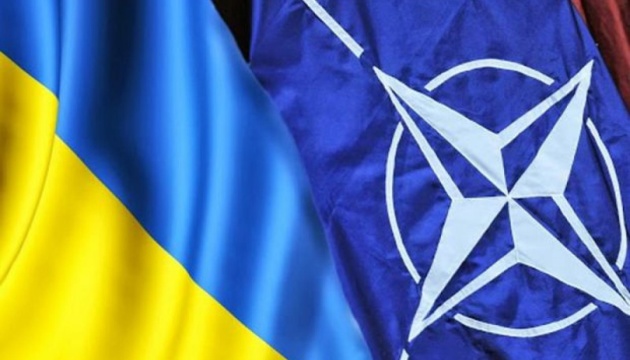 Ukraine working to have consensus build up within NATO on MAP – Vice PM
Ukraine has been making effort to ensure that consensus is achieved within the North Atlantic Treaty Organization on the Membership Action Plan for Ukraine.
That's according to Deputy Prime Minister for European and Euro-Atlantic Integration, Olha Stefanishyna, who met via video conference with Wendy Morton, UK's Minister for European Neighbourhood and the Americas, Ukrinform reports referring to the Government Portal.
"Ukraine is working to build a consensus within the Alliance on providing our country with a NATO Membership Action Plan, and it's very important for us to feel the support of our partners along the way. Today, the efforts of our President, Government, and Parliament are united around Ukraine's Euro-Atlantic integration, which allows for complex reforms in the security and defense sector, implementation of NATO standards, and work on the NATO Enhanced Opportunities [Partnership] Program," Stefanishyna said.
The vice prime minister noted that the communiqué of this year's NATO Summit, which confirmed that Ukraine would become a NATO Ally, was an important document paving way for strategic clarity on Ukraine's future membership in the Alliance.
Stefanishyna also thanked Morton for Britain's support for Ukraine's Euro-Atlantic course.
At the same time, the vice prime minister noted the threat posed by Russia, which has been mounting military infrastructure in the Black Sea region amid the continued militarization of the temporarily occupied Crimea. Stefanishyna said Ukraine supports the expansion of NATO's presence in the Black Sea region.
"Strengthening cooperation between Ukraine and NATO, joint exercises on land and at sea, as well as developing efforts to counter hybrid threats will help strengthen NATO's eastern flank," she said.
The vice prime minister also noted the ambitious reform agenda that is being implemented in Ukraine today on the path to Euro-Atlantic integration.
In particular, the Verkhovna Rada, Ukraine's parliament, passed a law paving way for corporatization of the country's defense industry; work continues on the implementation of defense procurement legislation; the lawmakers are expected to pass at second reading a bill on the SBU Security Service reform, etc.
Stefanishyna and Morton also discussed work on the implementation of the Paris Climate Agreement.
As Ukrinform reported earlier, on July 19, Foreign Ministry spokesman Oleh Nikolenko stated that Ukraine does not intend to revise its geopolitical vector regarding EU and NATO membership, while at the same time being set to develop relations with Asia, Africa, and Latin America based on national interests.
im