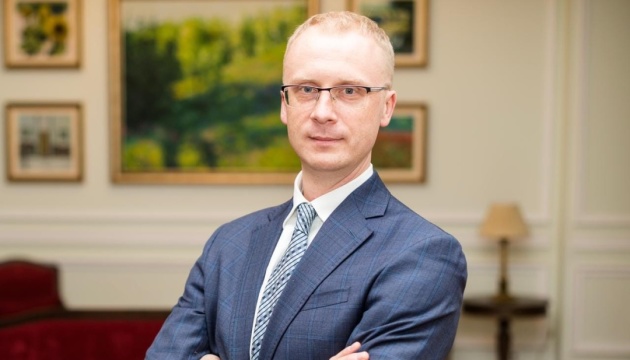 Ukraine not planning to revise its geopolitical vector - Foreign Ministry
Ukraine is not planning to reconsider its geopolitical vector regarding EU and NATO membership, but at the same time, it will develop relations with countries in Asia, Africa, and Latin America, taking into account its national interests, according to Ukrainian Foreign Ministry spokesperson Oleg Nikolenko.
He told this to Ukrinform, commenting on a statement by Oleksii Arestovych, spokesperson for the Ukrainian delegation to the Trilateral Contact Group, about Ukraine's possible eastward turn.
"Ukraine does not intend to reconsider its geopolitical vector. The strategic course of our state is secured at the level of the choice of the Ukrainian people and the Constitution of Ukraine. This is gaining membership in the EU and NATO. The question of Ukraine's westward or eastward movement in the paradigm of Ukrainian foreign policy is not on the agenda," Nikolenko said.
He said Ukraine appreciated the support of Western partners, including the United States and the European Union, in countering Russian aggression and in the de-occupation of Crimea and Donbas. At the same time, Ukraine is doing a lot of work to become a modern European democracy, he said.
"And this path is inevitable. At the same time, this does not mean that we will artificially hinder the development of relations with certain countries or regions. National interests are always the number one priority for us," Nikolenko said.
In this context, he stressed that this is why Ukrainian President Volodymyr Zelensky had tasked Foreign Minister Dmytro Kuleba, in addition to the systematic work by the Foreign Ministry to achieve Ukraine's membership in the EU and NATO, with developing relations with countries in other regions, including Asia, Africa, and Latin America.
Earlier, Arestovych stated on the Dom television channel that if pro-Russian sentiment were to intensify in Europe and the West, Ukraine would reorient its interests to the East, meaning it will start building a system of relations with China, Vietnam, Turkey, the United Arab Emirates, Qatar, and other countries.
op