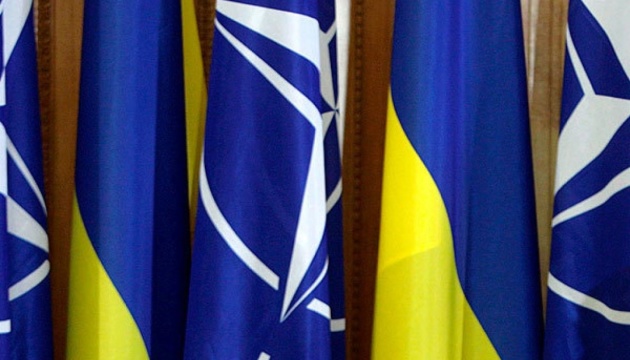 NATO-Ukraine cooperation to be strengthened in near future – NATO special representative
Ukraine's cooperation with the North Atlantic Alliance will be strengthened in the coming months as the Allies are ready for even closer cooperation.
NATO Special Representative and Deputy Assistant Secretary General for Political Affairs James Appathurai said this in his video address on behalf of Secretary General Jens Stoltenberg to the participants of the Youth Kyiv Security Forum, founded by the Arseniy Yatsenyuk Open Ukraine Foundation, Ukrinform reports with reference to the organizers of the event.
"NATO's door remains open. Allies stand by the decisions of the 2008 Bucharest summit that Ukraine and Georgia will become NATO members," he stressed, expressing hope that NATO leaders "will clearly state that principle at the summit next week."
In turn, Appathurai noted that there is no shortcut to NATO membership.
"Each prospective member has to go through wide-ranging reforms not only of its security and defense institutions, but also with regard to the rule of law, good governance, and economic stabilization. These are things that the Ukrainian people of all ages expect from their leadership," he said.
The NATO special representative added that reforms will make Ukraine more resilient, prosperous, and stable, and will bring Ukraine closer to NATO.
As Ukrinform reported, the decision was made at the NATO summit in Bucharest in 2008 that Ukraine and Georgia would become NATO members and a Membership Action Plan should be a step on this path. There is still no consensus among NATO countries on the issue of granting MAPs to both countries.
On June 12, 2020, the North Atlantic Council recognized Ukraine as an Enhanced Opportunities Partner.
ish