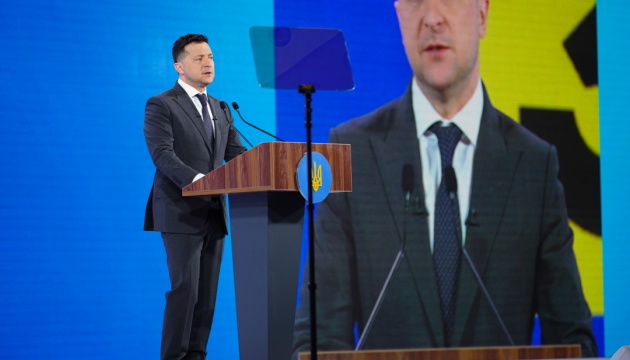 President: Ukraine doesn't want war, yet must have powerful army for peace
Ukraine does not want a war, yet continues to increase its combat potential to have a powerful and capable army.
"We continue to deter Russian aggression and increase our combat potential. Like any civilized country, Ukraine does not want a war, but for peace, as paradoxical as it may sound, it must have a powerful and capable army. After all, it is a guarantee of stability, a guarantee of peace, and that no one will think of taking something from our state easily and without a single shot," President Volodymyr Zelensky said during the All-Ukrainian Forum "Ukraine 30. National Security", the press service of the Head of State informs.
He noted that the National Security and Defense Strategy of Ukraine had been approved in September 2020. The Strategy is based on the highest social values: a person, human life, health, honor, dignity, inviolability and security, and the highest priority of the state is to restore peace, territorial integrity and sovereignty of Ukraine within internationally recognized borders.
According to the Head of State, the strategy is based on three main principles: containment, resilience and interaction, on which Ukraine's efforts and resources are focused.
The President stressed that strengthening defense and security capabilities, international support, political, economic and legal pressure on the aggressor were among the priorities of the National Security Strategy.
Zelensky also announced the finalization of the Concept of National Resilience System, which provides for the fulfillment of the basic requirements of NATO, in particular regarding the continuity of governance and the provision of critical public services, sustainable energy supply, effective response to the uncontrolled movement of a large number of people; sustainable resources for water and food supply; reaction to mass losses; sustainable systems of civil communication and civil transport.
"To be effective and achieve these goals, we have a close cooperation with the NATO Mission to Ukraine," the President said.
"We are completing the development of other strategic planning documents on energy, information, environmental, economic, foreign policy and cyber security of Ukraine," he added.
On September 14, 2020, President Volodymyr Zelensky signed a decree to enact the decision of the National Security and Defense Council and endorse the National Security Strategy of Ukraine.
ol