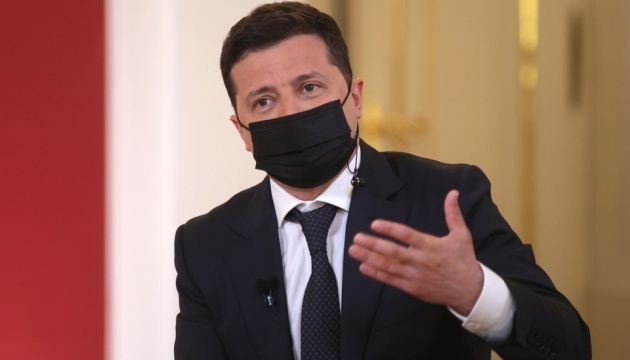 Zelensky thanks presidents of Poland, Estonia, Latvia, and Lithuania for supporting Ukraine
President of Ukraine Volodymyr Zelensky has thanked the leaders of Poland, Estonia, Latvia, and Lithuania for supporting the territorial integrity and sovereignty of Ukraine.
He said this in his opening remarks during a discussion on the future of European politics, an Ukrinform correspondent reports.
"I want to extend my thanks. Much attention has been paid to Ukraine, and our partners constantly support Ukraine, our territorial integrity and sovereignty. I am grateful to you all. This is very important today, when part of Ukrainian territory - our Crimean peninsula is annexed, and when we have a war in the east. And this is also a war in Europe, so it is very important for us to stand together," Zelensky stressed.
He also agreed with President of Poland Andrzej Duda, who said that we all strive to live in a democratic society.
"I think we have the same aspiration and view, but different experiences. Indeed, Ukraine has a completely different experience. We have been fighting for our independence for many years, decades. And today the same thing is happening in the east of our country, where we are again fighting for our independence," Zelensky said.
He stressed that the war in eastern Ukraine is a war for independence.
"But the Ukrainians have been doing this for so many centuries! I am sure that no one will give up independence this time thanks to our strength," the head of state emphasized.
On May 3, the presidents of Ukraine, Poland, Lithuania, Latvia, and Estonia met in Warsaw to celebrate the 230th anniversary of the adoption of the 3 May Constitution. The presidents of the five countries signed a joint declaration, which emphasizes that the solidarity of nations under current threats to common security is one of the cornerstones of peace, stability, development, prosperity and resilience.
Photo credit: Jakub Szymczuk, KPRP
ish