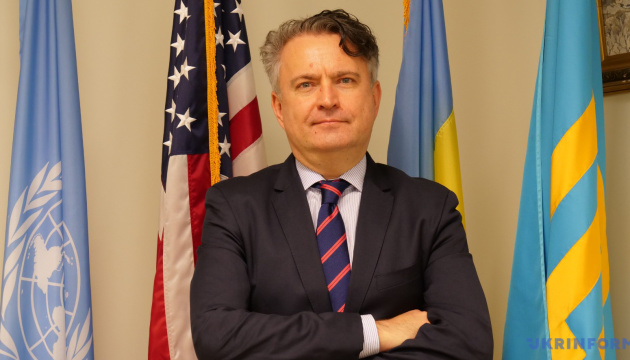 Kyslytsya: Any UN project in Ukraine exceeds our annual contribution
Any UN project in Ukraine exceeds Ukraine's annual contribution for membership in the Organization.
"I am surprised when someone says that the UN is so expensive, and it is unknown why we should pay [contributions]. Any one of the dozens of projects implemented by the UN in Ukraine exceeds our annual contribution," Permanent Representative of Ukraine to the UN Sergiy Kyslytsya said in an interview with Ukrinform.
As noted, Ukraine annually pays $1.6 million to the regular UN budget, less than Croatia, Slovenia or Lithuania. According to Kyslytsya, Poland pays $23 million.
This year alone, the UN is to allocate $168 million for humanitarian purposes in Ukraine, to help the occupied and adjacent territories, Kyslytsya said. In addition, the plan of cooperation between Ukraine and UN agencies provides for projects with a total budget of $667 million for five years. The projects concern the development of public administration, democratic governance, employment, green energy, etc., he said, noting that this potential is actively used by Ukrainian agencies.
An important area of ​​UN activity in Ukraine last year was to assist the Government in combating COVID-19, Ukraine's Permanent Representative noted. The UN conducts centralized procurement of vaccines under the COVAX Facility, including for Ukraine.
According to Kyslytsya, the largest contributor to the UN is the United States, securing more than 22% of the regular UN budget (total budget of $3 billion) and more than 27% of the peacekeeping operations' budget (total budget varies between $6 to $8 billion). This year, the United States allocates $1.5 billion for peacekeeping operations.
Kyslytsya also underlined significant changes in the approaches to the UN of the current U.S. administration, compared to the previous one. In particular, they concern the payment of contributions to the UN, which the United States owed under the previous administration.
ol