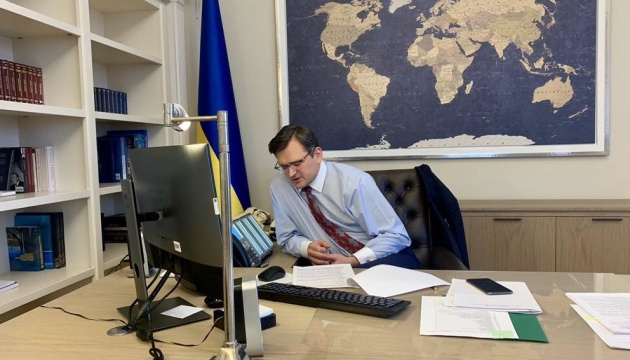 Kuleba, U.S. Senate Committee chairman discuss increasing military aid
Minister of Foreign Affairs of Ukraine Dmytro Kuleba and Chairman of the U.S. Senate Foreign Relations Committee Bob Menendez discussed the increase in military assistance to Ukraine.
According to the Foreign Ministry's press service, Dmytro Kuleba had a phone call with Bob Menendez on April 20.
During the conversation, Menendez said that the U.S. Senate is very concerned about the buildup of Russian forces near Ukraine's border and the threats that Moscow's current actions pose to Ukraine and Europe.
Kuleba briefed his interlocutor in detail on the current situation in the zone of the Russian-Ukrainian conflict and along the Ukrainian border. He drew particular attention to the illegal actions of the Russian Federation in the Black Sea and the Sea of Azov, as well as to the militarization of the temporarily occupied Crimea, the Black Sea and the Sea of Azov.
In turn, the Senate Committee chairman stressed that Russia's unprovoked aggression against Ukraine is completely unacceptable for the United States and the civilized world, and assured that any new stage of aggression will have grave consequences for Moscow. At the same time, he praised Ukraine's balanced and wise reaction to Russia's attempts to provoke an escalation.
Menendez assured Kuleba of unwavering support for the territorial integrity and sovereignty of Ukraine, the readiness of the U.S. Senate to continue to resolutely support its strategic partner, especially in the context of the escalation of Russia's aggressive actions.
Menendez said that he is awaiting approval by the Senate Committee he chairs of the Ukraine Security Partnership Act, which provides for an increase in annual military aid, including the provision of lethal weapons.
As Ukrinform reported, on April 15, U.S. President Joe Biden issued an executive order imposing new sanctions and restrictions on Russia in response to actions by the Russian government and intelligence services against U.S. interests and sovereignty.
During an online meeting of the European Parliament's Subcommittee on Security and Defense on April 14, Ukrainian Defense Minister Andrii Taran said that Russia concentrated 56 battalion tactical groups with 110,000 troops along the Ukrainian border.
According to the minister, the real goal of the Russian military buildup at the Ukrainian border may be attempts to force the Ukrainian government to make concessions in the negotiation process and to demonstrate readiness to use armed force.
ish