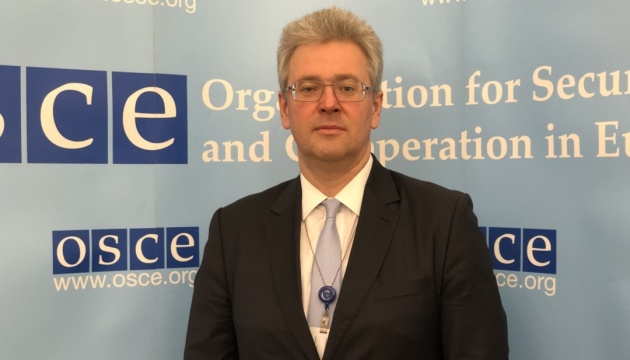 Ukraine initiates new OSCE meeting over Russian troops at border
Ukraine has initiated a joint meeting of both OSCE decision-making bodies - the Permanent Council and the Forum for Security Co-operation - to consider the issue of building up Russia's military presence along the Ukrainian border and in the temporarily occupied Ukrainian territories.
Permanent Representative of Ukraine to International Organizations in Vienna Yevhenii Tsymbaliuk said this in a commentary to Ukrinform.
"We initiated the next significant step within the framework of the Vienna Document and sent an appeal to the Swedish Chair of the OSCE to hold a joint meeting of the Permanent Council and the Forum for Security Co-operation. The Chair should prepare such a meeting within no more than 48 hours," Tsymbaliuk said.
According to the procedure, the deadline for such a meeting is Wednesday morning, April 14. A joint meeting of the Permanent Council and the Forum for Security Co-operation is most likely to take place on Tuesday.
During the meeting, which will be held with the participation of all 57 OSCE participating States, recommendations should be made to resolve the situation and reduce the tension caused by the buildup of Russian troops near the border with Ukraine.
According to Tsymbaliuk, Ukraine initiated a new OSCE meeting after Russia ignored the meeting of the participating States convened by Ukraine on April 10.
As reported, on April 7, Ukraine activated the Vienna Document 2011 on Confidence- and Security-Building Measures. In accordance with procedures stipulated by the document, Ukraine sent an official request to the Russian side to provide an explanation of Russia's large-scale military build-up over the last days along the border with Ukraine and in the temporarily occupied territories.
However, the Russian side refused to provide information upon the request, claiming that it is not conducting such activities. In addition, Russia boycotted a meeting convened by Ukraine on April 10 with the participation of other OSCE participating States.
The Ukrainian Foreign Ministry said that Moscow's refusal to comply with the provisions of the Vienna Document was "yet another testimony to the intentions of the Russian Federation to continue its military pressure and threats of the use of force against Ukraine."
As a reminder, the Russian armed forces have recently been building up troops near the state border of Ukraine in the north, east and south, as well as in the occupied Crimea. In addition, the number of ceasefire violations in eastern Ukraine by the armed formations of the Russian Federation has increased; there are losses among the soldiers of the Armed Forces of Ukraine. In parallel, the Russian Federation is conducting a propaganda campaign to justify possible aggression against Ukraine.
The United States, other Western countries, as well as the EU and NATO, have come out in support of Ukraine's sovereignty and territorial integrity against the backdrop of Russia's escalation in eastern Ukraine.
ish