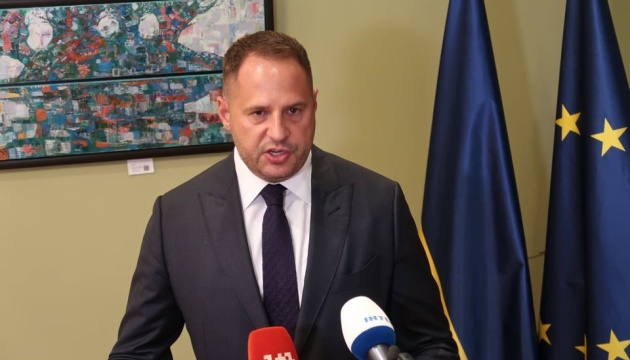 Yermak announces Ukraine-France-Germany talks
Head of the President's Office Andriy Yermak has assured that consultations within the Normandy format are ongoing and announced talks between Ukraine, Germany and France.
"Consultations with our partners in the Normandy format take place weekly, several times a week. Last week, I spoke twice or thrice with representatives of France and Germany. I think that a video conference or talks between the three countries — Germany, France and Ukraine — will take place in the nearest future," Yermak said in a video comment to Ukrinform.
According to him, the negotiation process continues.
"Ukraine has a principled position: we must achieve peace, we must stop the war, we must return all our lands and all our people," he said.
At the same time, Yermak stressed that the talks between the leaders of France, Germany and Russia, which took place last week, had nothing to do with the Normandy format.
As Ukrinform reported, on March 30, President of France Emmanuel Macron, German Chancellor Angela Merkel and President of Russia Vladimir Putin held a conversation through video conferencing, one of the topics of which was the situation in eastern Ukraine. The leaders of France and Germany, in particular, stressed that Russia needed to commit itself to ensuring the ceasefire in Donetsk and Luhansk and helping overcome the crisis in compliance with the Minsk Agreements.
Later, President's Spokesperson Iuliia Mendel said in a comment to Ukrinform that Ukraine continued negotiations with all countries of the Normandy format and no decisions regarding Ukraine could and would be made without Ukraine's participation.
ol