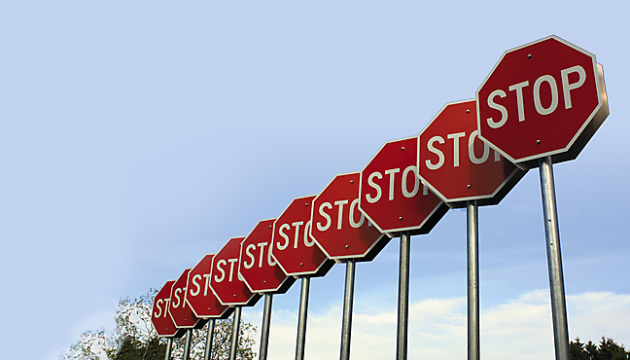 Ukraine joins EU sanctions for human rights violations
Ukraine has joined restrictive measures applied by the European Union, using a global human rights sanctions regime, against Russia and other countries.
This is stated in the declaration by the High Representative on behalf of the EU on the alignment of certain countries concerning restrictive measures against serious human rights violations and abuses, which was published on the website of the European Council on Tuesday, March 30.
"On 2 March 2021 the Council adopted Decision (CFSP) 2021/3721, amending Council Decision 2020/1999. The Council Decision adds four persons to the EU sanctions list of natural and legal persons, entities and bodies subject to restrictive measures set out in the Annex to Decision (CFSP) 2020/1999. The Candidate Countries the Republic of North Macedonia, Montenegro and Albania2, and the EFTA countries Iceland, Liechtenstein and Norway, members of the European Economic Area, as well as Ukraine align themselves with this Council Decision," the declaration reads.
According to the document, these countries will ensure that their national policies conform to these Council Decisions. The European Union takes note of this commitment and welcomes it.
As was reported earlier, the EU Council decision of March 2, 2021 imposed sanctions in the form of asset freezes and travel bans on four Russian officials involved in serious human rights violations, arbitrary arrests and repression in Russia.
The same decision extended EU sanctions to 11 individuals from China, North Korea, Libya, Eritrea, South Sudan and Russia involved in torture, extrajudicial killings, enforced disappearances and other crimes, including two police officers from Chechnya.
EU foreign ministers on February 22 made a political decision to impose new sanctions on Russian officials over the arrest of Russian opposition leader Alexei Navalny. The expanded list includes, in particular, Chairman of the Russian Investigative Committee Alexander Bastrykin, Director of the Federal Penitentiary Service Alexander Kalashnikov, Director of the National Guard Viktor Zolotov and Prosecutor General Igor Krasnov.
op