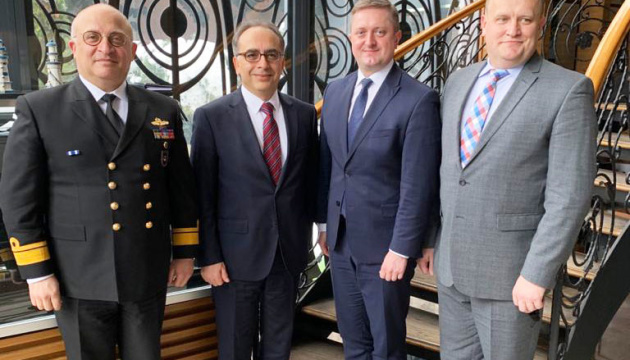 Ukraine, Turkey hold political and security consultations in 'quadriga' format
On March 24, Ankara hosted political and security consultations between the authorized representatives of the Foreign Ministry and the Defense Ministry of Ukraine and Turkey, the national coordinators of the "quadriga" bilateral cooperation format.
Regular contacts between the "quadriga" coordinators are envisaged by the agreements reached by the foreign and defense ministers of the two countries, who held an inaugural meeting in a new format in Kyiv on December 18, 2020, the press service of the Ukrainian Foreign Ministry reports.
During the consultations, the national coordinators discussed ways to deepen security and defense cooperation between Ukraine and Turkey to restore stability and security in the Black Sea region and further develop interaction in the field of defense industry.
Separately, the parties discussed the current situation in Crimea, as well as in Donetsk and Luhansk regions, temporarily occupied by the Russian Federation.
Turkey's representatives reaffirmed their continued support for Ukraine's sovereignty and territorial integrity, as well as their non-recognition of the attempted annexation of Crimea. The Turkish side also stressed its support for Ukraine's Euro-Atlantic course and aspirations towards full membership in NATO.
In the end, the participants exchanged views on the prospects for resolving conflicts in the Middle East, North Africa, the Eastern Mediterranean and the Caucasus.
As a reminder, an agreement on the creation of a new format of political and security consultations – "quadriga" (2+2) with the participation of foreign ministers and defense ministers of Ukraine and Turkey – was reached following a working visit of President of Ukraine Volodymyr Zelensky to the Republic of Turkey on October 16, 2020.
On December 18, 2020, the inaugural meeting in a new format took place in Kyiv. The purpose of the "quadriga" format, which will be held annually, is to discuss the most pressing issues in the field of politics and regional security, coordinate joint actions and develop new projects in the political, security, economic and defense sectors.
ish