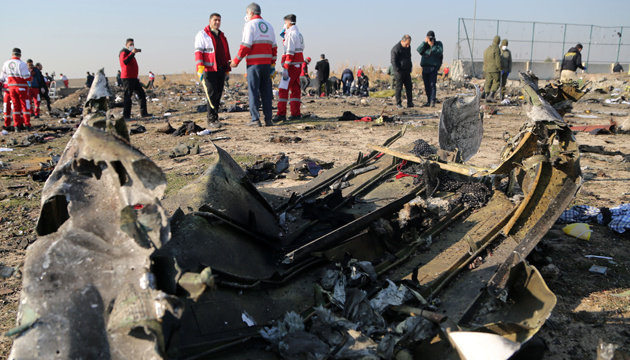 UIA plane crash: Kuleba calls Iran's report an attempt to hide true causes of tragedy
Ukrainian Foreign Minister Dmytro Kuleba called Iran's report on the downing of a Ukraine International Airlines (UIA) passenger plane near Tehran in January 2020 as an attempt to hide true causes of the plane crash.
He said this in a video address, Ukrinform reports.
"Ukraine has earlier sent Iran more than 90 pages of remarks and proposals to its draft final report and insisted on Iran including them into the final document. However, what we saw in today's published report is just a cynical attempt to hide true causes of the downing of our aircraft," Kuleba said.
According to him, an analysis of the document proves that Iran conducted the technical investigation with numerous violations of international standards of the Chicago Convention and IKAO.
The minister noted that the investigation had been "biased, presented proves are selective, and conclusions are deceptive."
"The document does not cover all the circumstances; it reveals neither the causes of the tragedy nor the chain of events that led to it. This is not a report, but a collection of manipulations aimed not at establishing the truth but acquitting the Islamic Republic of Iran. This is a great despair for Ukraine and the rest of the civilized world. Iran could not find strength to take responsibility for ensuring that such tragedies do not repeat in the future," Kuleba stressed.
At the same time, he noted that if Iran does not want voluntarily demonstrate its willingness to establish the truth of the tragedy, Ukraine and international partners will find ways to achieve this.
"We will not let Iran hide the truth or avoid responsibility for this crime. Justice will prevail, no matter how much effort and time it takes," Kuleba assured.
As reported earlier, Iran's Civil Aviation Organization released the final report on the crash of the Ukrainian passenger plane in January 2020. The report blamed an error by an air defence operator for the accidental downing of the Ukrainian plane.
On January 8, 2020, Ukraine International Airlines plane (Flight PS752) heading from Tehran to Kyiv crashed shortly after taking off from the Imam Khomeini International Airport. There were 176 people on board – nine crew members (all Ukrainians) and 167 passengers (citizens of Ukraine, Iran, Canada, Sweden, Afghanistan, Germany, and the UK).
On January 11, Iran admitted that its military had accidentally shot down the Ukrainian passenger jet. Iran's Islamic Revolutionary Guard Corps (IRGC) accepted full responsibility for the downing of the Ukrainian airliner.
On January 5, 2021, Ukrainian Foreign Minister Dmytro Kuleba said that Ukraine had received from Iran a draft technical report on the circumstances of the crash of flight PS752, and should prepare its comments by the end of February.
On February 20, Iran announced the completion of the investigation into this case.
ish