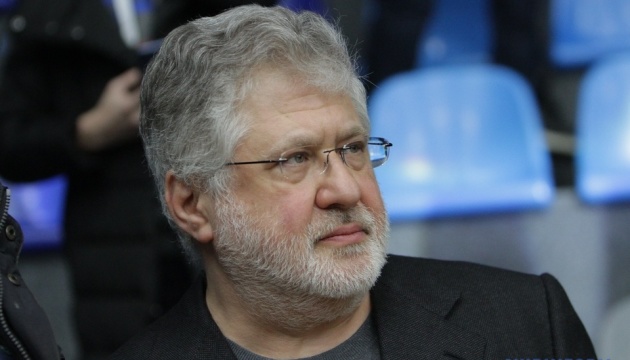 Mendel says U.S. sanctions against Kolomoisky 'just the beginning'
Ukrainian presidential spokesperson Iuliia Mendel has said that U.S. sanctions against Ukrainian businessman Ihor Kolomoisky are "just the beginning."
She said this in an interview with journalist Olesya Batsman, editor-in-chief of the Gordon news site.
Batsman recalled that last week Mendel wrote a column for the Atlantic Council, noting that "Zelensky is prepared to challenge the power of Ukraine's oligarchs everywhere from the energy and banking sectors to politics and the media." Batsman suggested that after these words "some people's heart rate increased" and asked Mendel to specify whether any of the oligarchs should start to fear after that.
"This is a good, very clear question, but I will not answer it clearly, because no one writes about the future. But at his press conference on May 20, the president hinted that some TV channels should take care of the purity of their funding and the integrity of their journalism," Mendel said. "It was May 2020, and sanctions against them were imposed in late January 2021. No one was sitting idly all this time, but everyone was looking for some evidence. It is useless to look for sanctions that can call us into question democracy and freedom of speech and not to have any evidence."
Mendel explained what she meant in her article: "Less than two years have passed, and we have hit three very well-known people who represent huge financial groups and who have made their fortunes on the state budget and taxes - on what Ukrainians have to live. Nobody did that before."
Mendel said these people were Opposition Platform - For Life MP Viktor Medvedchuk and businessmen Dmytro Firtash and Ihor Kolomoisky.
In this regard, Batsman clarified: "On Kolomoisky, do you mean he has been hit by the United States?" "No, why? [..] [U.S.] sanctions show that they have evidence of his corruption, because there is a clear word 'corruption.' I think this is not the end. I think this is the beginning," Mendel said, recalling that in Ukraine, three former top managers at PrivatBank, a bank that previously belonged to Kolomoisky, were declared suspects in embezzling UAH 137 million.
On March 5, U.S. Secretary of State Antony Blinken announced U.S. sanctions against Kolomoisky. The businessman, his wife and children have been banned from entering the United States.
The Ukrainian President's Office thanked the United States "for supporting de-oligarchization."
Kolomoisky is one of the ten richest Ukrainians. In 2020, the Forbes Ukraine magazine estimated his fortune to be worth $1 billion (the eighth richest Ukrainian), and the NV magazine estimated his wealth at $1.18 billion (No. 6 on the list of the wealthiest Ukrainians).
op