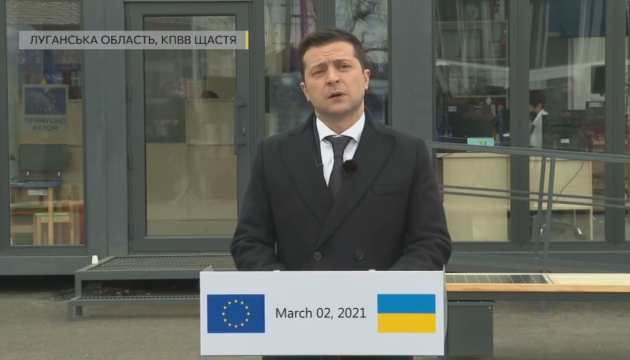 Zelensky grateful to European partners for assistance in judicial reform
President of Ukraine Volodymyr Zelensky considers it's important that the official visit of European Council President Charles Michel to Ukraine starts with visiting Donbas and thanks the European partners for expert assistance in implementing judicial reform.
"Today, President of the European Council Charles Michel stays with us in Donbas. He visits Ukraine for the first time and, in my opinion, it is very important that the official visit begins with a joint trip to the contact line. However, it is no secret that European partners support us not only in ending the war in eastern Ukraine but in many other issues as well, including improving our judicial system and carrying out successful judicial reform," Zelensky said in a joint video address with Michel to the participants of the All-Ukrainian Forum "Ukraine 30. Development of Justice" from the Shchastia border crossing point in Luhansk region, an Ukrinform correspondent reports.
He reminded that a three-year strategy for the development of judicial bodies and constitutional judicial proceedings had been presented at the Forum on March 1.
"In order to implement it, I am set to sign a relevant decree in the near future," the President promised.
At the same time, he thanked the President of the European Council and, in his person, the entire EU for the important expert assistance in forming a stable and independent judiciary in Ukraine.
As reported, European Council President Charles Michel has started his two-day visit to Ukraine on March 2.
ol