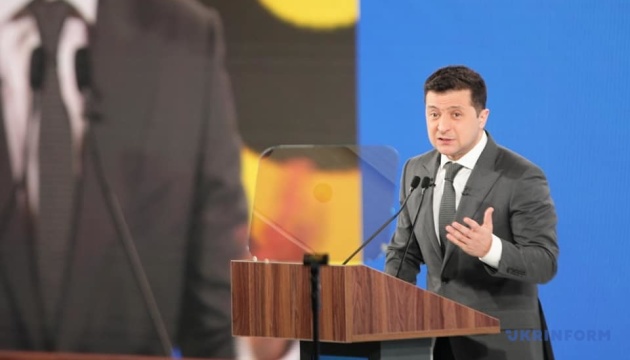 Zelensky promises to carry out reform aimed at restoring confidence in judiciary
The authorities will inevitably carry out a judicial reform aimed at restoring confidence in the judiciary, Ukrainian President Volodymyr Zelensky has said.
He said this during the All-Ukrainian Forum "Ukraine 30. Development of Justice" on Monday, March 1, an Ukrinform correspondent reports.
"The reform of the country's Constitutional Court is a very sore point. Unfortunately, due to some judges' actions, this body has become synonymous with distrust, and today it is no longer a matter of restoring trust, but of actually building this trust from scratch. The format in which the Constitutional Court should work includes a transparent selection of judges, integrity, ethics, clear procedures and a clear decision-making process. To find ways to resolve all these issues, I will create a commission on judicial reform in Ukraine," the head of state said.
According to him, this is an expert, non-politicized platform for preparing a strategic vision, that is, a set of legislative changes that will eliminate shortcomings, which will answer the question of what kind of judicial system Ukraine will have in a few years and under what conditions the state will achieve international standards of justice.
"Today the commission presents the results of its work and its future plans. I can assure you that we are determined to take all the necessary steps for successful reform so that only honest, independent, and fair courts can finally work in Ukraine. There will be courts where the letter of the law, not the amount in an envelope, is decisive, where the law is the same for everyone - and this is important, and all are equal before the law. We will implement this decision, and it is not subject to appeal, revision or revocation," Zelensky said.
As Ukrinform reported, the All-Ukrainian Forum "Ukraine 30. Development of Justice" is held in Kyiv on March 1-3. It is attended by representatives of the President's Office, government, parliament, diplomatic corps of the G7 countries and specialized experts. They will discuss the role and mission of the Constitutional Court and the Supreme Court, the draft of a new Criminal Code, and the prospects for recodification of the Civil Code of Ukraine.
ish