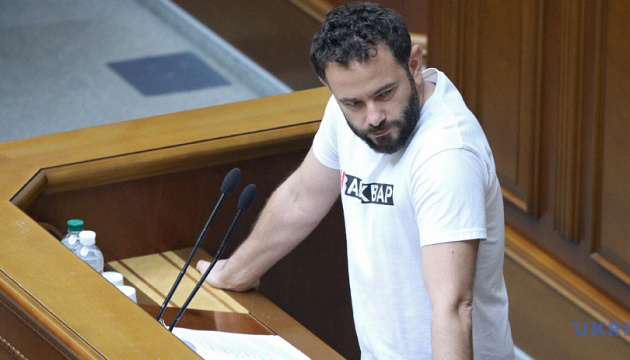 MP Dubinsky expelled from Servant of the People faction
Ukrainian MP Oleksandr Dubinsky, subject to U.S. sanctions, has been expelled from the Servant of the People faction.
According to an Ukrinform correspondent, Dubinsky announced this after a faction meeting on Monday, February 1.
"I'm interested in the fact that this is not a vote, but a pure farce. And today I am addressing both esteemed and disrespectful colleagues, because there are dear colleagues who did not vote for this manipulative story. […] We have seen the true faces of political actors in both the President's Office and the Ukrainian parliament, and we understand well that this is a manipulative result that specific people needed to receive specific political dividends and to solve their own problems," Dubinsky said.
He also added that "it is absolutely obvious to me that after these red lines [have been crossed] it makes no sense to stay in this faction and no MP with common sense needs this."
Dubinsky noted that he would continue to work in the Verkhovna Rada Committee on Finance, Tax and Customs Policy.
He also said he did not plan to join another faction or parliamentary group. At the same time, when asked whether he plans to create his own parliamentary group, he said he would talk about this later.
On January 11, the U.S. Department of the Treasury's Office of Foreign Assets Control (OFAC) took additional action against seven individuals and four entities that are part of a "Russia-linked foreign influence network" associated with Andrii Derkach.
U.S. sanctions have been imposed on former Ukrainian government officials Kostiantyn Kulyk, Oleksandr Onyshchenko, Andriy Telizhenko, and current Ukrainian MP Oleksandr Dubinsky, who released the so-called "Derkach's tapes."
op