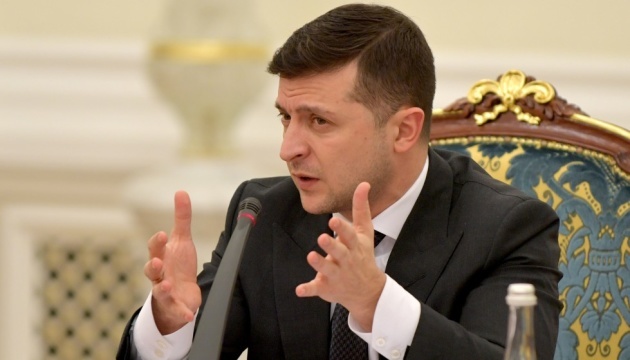 Zelensky hopes Biden will join Normandy talks
Ukrainian President Volodymyr Zelensky has said that the Normandy format is currently stagnant due to Russia's reluctance to move forward and expressed hope that U.S. President Joe Biden would join the talks.
He said this in an interview with the Axios news site, broadcast on the HBO television channel, which was made public by the presidential press service on Monday, February 1.
"Today, unfortunately, there is a moment of stagnation. I believe that this is due to the reluctance of the Russian Federation to move forward. Because they thought we would slow down this negotiation process, the Minsk process. But we are moving forward very quickly, we are ready to talk about all the details and move to the end of this war - move to peace," Zelensky said.
According to him, so far it is not about restoring relations with Russia, but about the need "to stop the war between our countries, go to the borders, return our people and our territories.
"A year and a month have passed since the Normandy meeting, and I do not see any serious steps forward. So I say again: I think it's idle talk. And Russia understands this perfectly well. They are playing because they do not want to promote this process according to Ukrainian requirements. Yes, they only want it their way. They see further federalization of Ukraine, and it is true. Weakening of the Ukrainian central government, preservation of separatists in one way or another - I understand what they are doing. We have seen this in Transdniestria - the same effect," Zelensky said.
He said he had told European leaders that if the talks continue in this format, this format will be exhausted.
"And that's why I wanted such a powerful world player as the United States to have an impact. Not theoretical, not outside the circle of the Normandy Four, but to have one of the crucial missions. I would really like to involve President Biden in the Normandy format. I am ready to do anything to reach an agreement with the President of the United States and the Normandy Four," Zelensky said.
At the same time, he noted that this could be another format in parallel with the Normandy format, where the United States and Russia must be present.
"This is a parallel case. This does not mean that we give up on the Normandy format. But there are issues that are not on the agenda of Normandy, namely: what to do with Crimea," Zelensky said.
The Normandy Four summit last took place in December 2019. The next summit was scheduled for April 2020, but it did not take place either because of the pandemic or because the process slowed down again. The work in this format is currently underway at the level of political advisers.
op