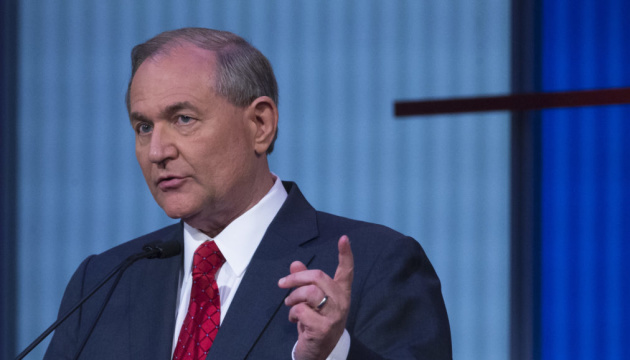 USA calls on Russia to grant Red Cross access to Donbas and Crimea
The United States calls on Russia to ensure unhindered access for the OSCE Special Monitoring Mission (SMM) and the International Committee of the Red Cross (ICRC) to all regions of Ukraine, including the temporarily occupied Crimea.
U.S. Ambassador to the OSCE James S. Gilmore said this at a meeting of the OSCE Permanent Council in Vienna on December 10, according to an Ukrinform correspondent.
"The ICRC's efforts to alleviate human suffering, and the OSCE Special Monitoring Mission's work to provide transparency regarding the situation on the ground, are crucial to creating space for negotiations to end the Russia-led conflict in eastern Ukraine – a progress and a development that we hope for in the immediate future. We call on Russia to facilitate the access of both organizations to all regions of Ukraine within its internationally recognized borders, including Crimea," he said.
The American diplomat noted the important role of the ICRC's work in Ukraine to provide humanitarian relief through demining, addressing missing persons, supporting coronavirus relief efforts, and improving access to safe drinking water in conflict-affected areas.
Gilmore said that at the meeting of the OSCE's Ministerial Council, "the overwhelming majority of ministers and delegations urged Russia, and the armed groups and proxies that it supports, to facilitate the unhindered access of the SMM, including along the internationally-recognized border, and to allow the ICRC unhindered access to detainees in portions of Ukraine not controlled by the government, as well as Russia-occupied Crimea."
As reported, at the Normandy Four summit in Paris in December 2019, the leaders of France, Germany, Ukraine and Russia agreed, inter alia, that international organizations, including the International Committee of the Red Cross (ICRC), should be provided with full and unconditional access to all detainees held in eastern Ukraine. However, the Russian side refuses to comply with this decision, and the ICRC has not yet gained access to the Ukrainians held in the occupied Donbas.
ish