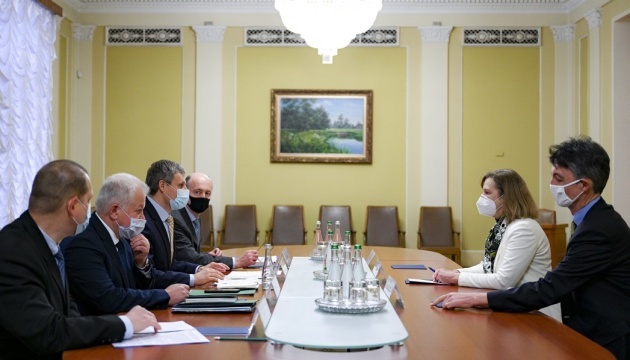 U.S. reaffirms support for Ukraine within security assistance package
Deputy Head of the Ukrainian President's Office Roman Mashovets and U.S. Chargé d'Affaires in Ukraine Kristina Kvien have discussed prospects for defense cooperation, the press service of the President's Office has reported.
"The interlocutors discussed the prospects for and ways of the further development and deepening of bilateral relations between Ukraine and the United States in the security, defense, military-economic and military-technical spheres. Particular attention was paid to the possibilities of structuring the existing bilateral formats of cooperation and exchanging experience on national security and defense, which is important to both countries," the report reads.
Mashovets, in particular, stressed the need to expand bilateral cooperation in the context of strengthening Ukraine's defense capabilities and the United States providing practical assistance to Ukraine.
He also reported on the steps taken by the President's Office to create an effective national sustainability system and expressed interest in studying the American experience in this issue.
Kvien, in turn, reaffirmed continued support for Ukraine from the United States, including within the U.S. package of assistance to Ukraine's national security and defense sector, and noted the importance of continuing defense reforms in Ukraine to maximize military assistance from the United States.
At the same time, the parties agreed to intensify work on the development of the bilateral legal framework for national security and defense, the report said.
Photo: president.gov.ua