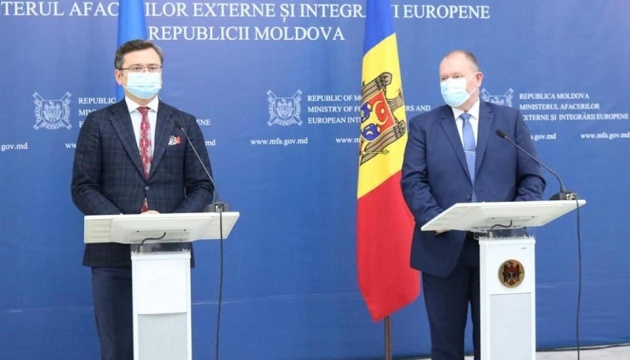 Ukraine, Moldova to work together on agenda of relations with EU - Kuleba
Ukraine and Moldova will hold in-depth bilateral consultations on European integration so as to work together on the agenda of the two countries' relations with the European Union, according to Ukrainian Foreign Minister Dmytro Kuleba.
He said this at a joint briefing with Moldovan Minister of Foreign Affairs and European Integration Aureliu Ciocoi in Chisinau on Thursday, December 10, according to an Ukrinform correspondent.
Kuleba noted that he and his Moldovan counterpart had discussed a full range of relations between the two countries and the parties agreed that security should be their fundamental principle.
"We have to work together to solve the chronic problems we have inherited and to move forward. I also have high hopes that we will work together on the agenda of relations between our countries and the EU. Today, one of our agreements is that we will hold in-depth bilateral consultations on European integration," Kuleba said.
He thanked Moldova for its consistent support for Ukraine's territorial integrity and sovereignty and stressed that Ukraine has also consistently supported Moldova in the Transnistrian settlement.
"We will continue to work together on projects and efforts that will help restore the territorial integrity of our countries. In this context, I informed my colleague about the Ukrainian initiative to create the Crimean Platform. We count on Moldova's active and constructive participation in this format," Kuleba said.
He also expressed Ukraine's interest in the maximum number of contacts with Moldova at all levels, including in the visit by President-elect Maia Sandu to Ukraine.
op