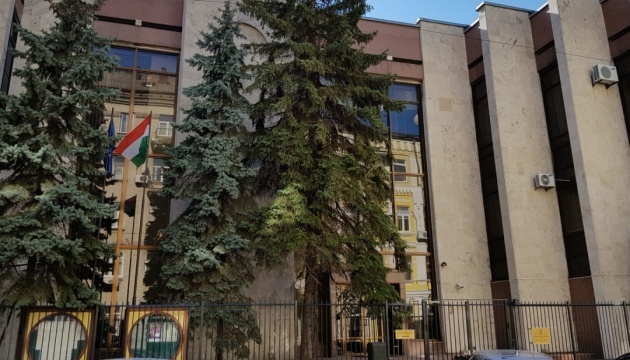 Hungarian embassy says Zakarpattia deputies first sang Ukraine's anthem at inauguration
Deputies of the Siurte merged territorial community in Ukraine's Zakarpattia region during their swearing-in ceremony first sang the national anthem of Ukraine and then the national prayer of Hungarians, which is now the national anthem of Hungary, the Hungarian Embassy in Ukraine has said in a statement on its Facebook page.
Hungarian diplomats noted that over the past few days, Ukrainian media outlets have been spreading a video in which the elected deputies of the village of Siurte in Zakarpattia region appear to be singing the national anthem of Hungary.
"It turned out that the person who made the recording and published it for an obviously hostile purpose - who, by the way, is a family member of a politician who lost the election - deliberately did not record the national anthem of Ukraine being played at the end of the session. Only after that, the audience sang the national prayer of Hungarians, which is several hundred years old and which later became the national anthem of Hungary," the statement reads.
The embassy added that this prayer is part of the cultural heritage and identity of Hungarians living in every part of the world.
Hungarian diplomats also noted that Article 6 of the Law of Ukraine "On National Minorities in Ukraine," adopted in 1992, guarantees the use of national symbols for these minorities.
On November 30, Ukraine's SBU State Security Service conducted authorized searches in the premises of a charity fund in Zakarpattia region. Reports of the involvement of a foreign fund in activities aimed at violating the state sovereignty of Ukraine are currently being verified.
Ukrainian Foreign Minister Dmytro Kuleba said at a meeting with Hungarian Ambassador to Ukraine Istvan Ijgyarto on December 1 that the investigation in Zakarpattia was being carried out within the powers of the SBU. He called unacceptable the situation when Ukrainian citizens - deputies of merged territorial communities - sing the national anthem of any foreign country, including Hungary, at their inaugural ceremony.
Photo: Hungary's Embassy in Ukraine / Facebook