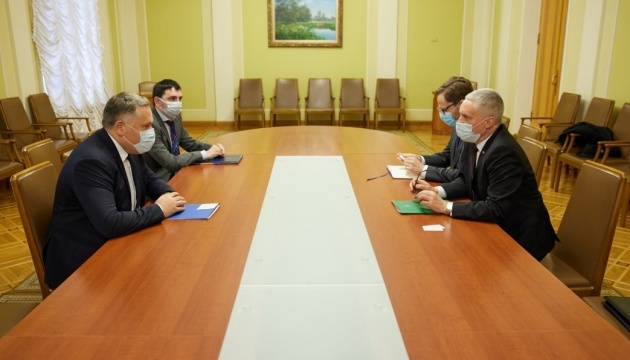 Deputy head of President's Office, Lithuanian ambassador discuss preparation for next meeting of Council of Presidents
Deputy Head of the Ukrainian President's Office Ihor Zhovkva and Ambassador of the Republic of Lithuania to Ukraine Valdemaras Sarapinas discussed the preparation for the next meeting of the Council of Presidents of Ukraine and Lithuania.
The interlocutors discussed the situation in Ukraine and Lithuania due to the second wave of coronavirus and the measures taken by the leaders of both countries to overcome the pandemic and ensure the protection of citizens, the press service of the President's Office reported.
"The main focus of the meeting was on the preparation of the next meeting of the Council of Presidents of Ukraine and the Republic of Lithuania. Ihor Zhovkva and Valdemaras Sarapinas also exchanged views on the preparation of a bilateral Economic Forum, which traditionally takes place in the framework of the meeting of the Council of Presidents of Ukraine and Lithuania," the report says.
Zhovkva reminded that Ukraine and Lithuania will mark the anniversary of the establishment of diplomatic relations on December 12, 2020. On this occasion, the parties agreed to study the possibility of organizing a video meeting between President of Ukraine Volodymyr Zelensky and President of Lithuania Gitanas Nausėda, during which they will discuss important tasks on the agenda of the Ukrainian-Lithuanian strategic partnership.
In addition, Zhovkva welcomed today's appointment of Ingrida Šimonytė as Prime Minister of Lithuania. He expressed hope for the prompt formation of a new Lithuanian government and the rapid establishment of working contacts with counterparts in Ukraine by the newly appointed Lithuanian ministers.
In his part, Sarapinas emphasized the unwavering position of Vilnius regarding firm support for Ukraine's sovereignty and territorial integrity, as well as Lithuania's willingness to continue providing practical assistance to our state.
ish