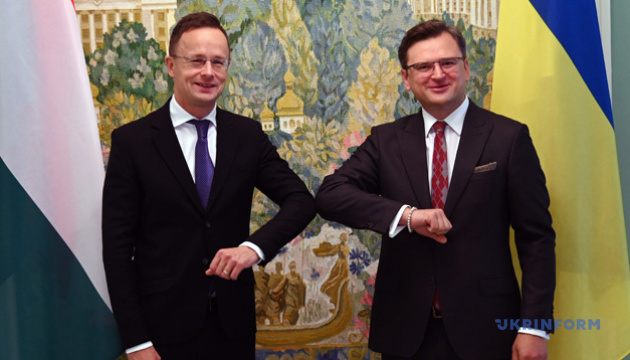 Kuleba, Szijjártó agree to 'turn the page' of diplomatic scandals
Minister of Foreign Affairs of Ukraine Dmytro Kuleba agreed with Minister of Foreign Affairs and Trade of Hungary Péter Szijjártó to turn the page in which Ukraine and Hungary recently exchanged painful blows.
"When I heard that Péter had contracted COVID-19, I immediately wrote him a text message wishing speedy victory over the virus. Péter read it and called back, thanked for the support. We had a good conversation about work, COVID-19, life, and football. Of course, we discussed a recent decline in our relations. Péter supported my proposal to turn the page in which Ukraine and Hungary recently exchanged painful blows. We both agree that we need to draw the right conclusions from what happened two weeks ago and continue to build a constructive dialogue," Kuleba posted on Facebook.
The Ukrainian minister believes that there is no alternative to the good neighbourliness of the Ukrainian and Hungarian peoples and a common European and Euro-Atlantic future.
"My work formula is simple: I am in favour of constructive. I like to solve problems without crossing the red lines of the sides. But if the other side crosses my red line, I am in favour of answering harshly and competently. Relations with neighbours, both among people and countries, are always long-term and always have their ups and downs. Although, it's somewhat easier with people. They can move, while the countries cannot. Hungary is our important neighbour," the Foreign Minister of Ukraine stressed.
On October 26, Ukraine banned two high-ranking Hungarian officials from entering into its territory because of their campaigning in Zakarpattia region during the electoral process of recent local elections. The day before, the Ministry of Foreign Affairs of Ukraine stated that Hungary had interfered in the electoral process in that border region of Ukraine and showed disrespect for Ukrainian legislation.
ol