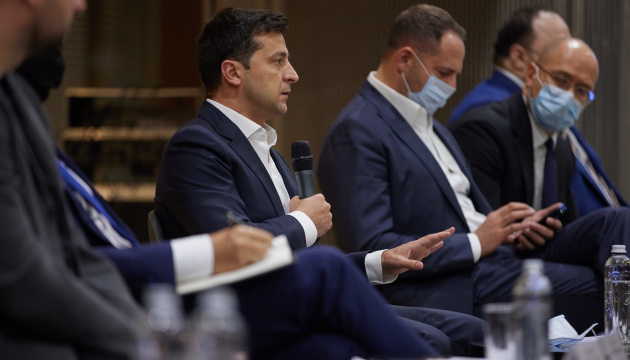 Zelensky ready to dissolve parliament in event of political collapse
Ukrainian President Volodymyr Zelensky has said he is ready to dissolve the Verkhovna Rada if the parliament does not support his bill to reset the Constitutional Court and this will lead to a political collapse in the country.
He stated this live on the Freedom of Speech talk show on the ICTV channel on Monday, November 2, according to an Ukrinform correspondent.
When asked whether he is ready to dissolve the Ukrainian parliament if it does not support his bill to reset the Constitutional Court, Zelensky said: "I want this parliament to work for the state. [...] This will also depend on the implementation of our plan and the conclusions that our deputies will make. Therefore, if there is a political collapse and a real political conflict, and if I see that there is no support in the Verkhovna Rada, especially from Servant of the People MPs, because they understand that they became deputies thanks to me and thanks to the support of our society, votes of the people, but they must understand their responsibility. If we go against each other, we will come out of this situation even in the way that you mentioned [through the dissolution of parliament]."
Earlier, at a meeting of the Servant of the People faction on November 2, the president called on MPs to support the early termination of the powers of the current Constitutional Court of Ukraine.
On October 27, the Constitutional Court declared unconstitutional Article 366-1 of the Criminal Code of Ukraine that provides for punishment for inaccurate declaration of assets. In particular, the article establishes liability in the form of a fine or imprisonment for the submission by subjects of declaration of deliberately inaccurate information in the asset declarations of persons authorized to perform the functions of the state or local government.
On October 28, the National Agency on Corruption Prevention (NACP) closed access to the unified state register of asset declarations in pursuance of a ruling of the Constitutional Court of Ukraine. The NACP stated that Constitutional Court judges had made this decision in their own interests as the agency found signs of some of them declaring inaccurate information.
On October 29, President Volodymyr Zelensky held an urgent closed-door meeting of the National Security and Defense Council to determine measures for the state's immediate response to new threats and challenges to national security and defense.
On October 30, Zelensky tabled in the Verkhovna Rada the bill "On Renewal of Confidence in Constitutional Judiciary," which proposes to terminate the powers of judges of the Constitutional Court and declare its ruling on asset declarations "null and void."
op