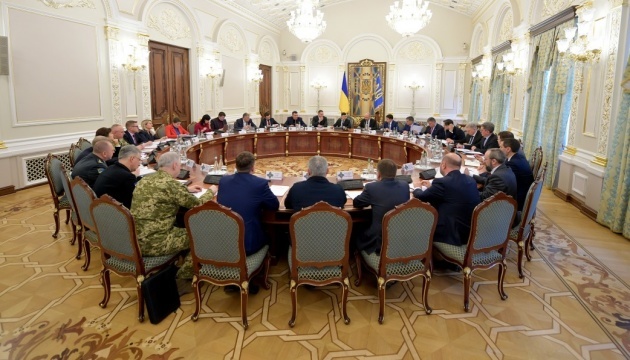 Zelensky convenes National Security and Defense Council meeting
Ukrainian President Volodymyr Zelensky has convened an urgent meeting of the National Security and Defense Council.
The meeting will be held behind closed doors to determine measures for the immediate proper response of the state to new threats and challenges to national security and defense, the presidential press service reported.
"The devastating blows inflicted on the country's achievements in the fight against corruption in Ukraine cannot be ignored. An immediate and tough assessment is needed of the decisions of individual entities whose actions are becoming increasingly socially dangerous," Zelensky said.
The President's Office said that recently there have been signs that some entities are trying to revise key parts of the social contract in Ukraine, which provide for zero tolerance for corruption and any form of non-transparency in public administration, and added that this is unacceptable.
According to the report, the president will invite members of the National Security and Defense Council to discuss the situation in the country's national security and take appropriate decisions.
The President's Office also said that the necessary bills, which in the future will prevent the emergence of such crises, will be worked out and submitted by the president to the Verkhovna Rada.
The Constitutional Court on October 27 declared unconstitutional Article 366-1 of the Criminal Code of Ukraine, which provides for penalties for incorrect information in asset declarations.
Article 366-1 of the Criminal Code provides for liability in the form of a fine or imprisonment for the submission of deliberately inaccurate information in asset declarations by persons authorized to perform the functions of the state or local government.
On October 28, at 19:00, the National Agency on Corruption Prevention closed access to the register of asset declarations in pursuance of the decision of the Constitutional Court of Ukraine.
In August 2020, 47 MPs submitted a motion to the Constitutional Court regarding the constitutionality of the provisions of the laws that make up the so-called anti-corruption platform. The issue concerns electronic asset declaration, special confiscation and updated Article 368-5 of the Criminal Code that provides for criminal liability for illicit enrichment.
The lawmakers challenged certain provisions of the laws "On Preventing Corruption," "On the Prosecutor's Office," "On the National Anti-Corruption Bureau of Ukraine," "On the State Bureau of Investigation," "On the Asset Recovery and Management Agency," the Criminal Code, and the Civil Procedure Code.
The NAPC said that the judges of the Constitutional Court had made this decision in their own interests, as the agency found signs of several judges declaring false information in their asset declarations.
At the same time, the President's Office said that President Volodymyr Zelensky would use his right of a legislative initiative to restore the sustainable and most effective operation of the electronic asset declaration system and ensure the inevitability of liability for intentional violations of these rules.
op