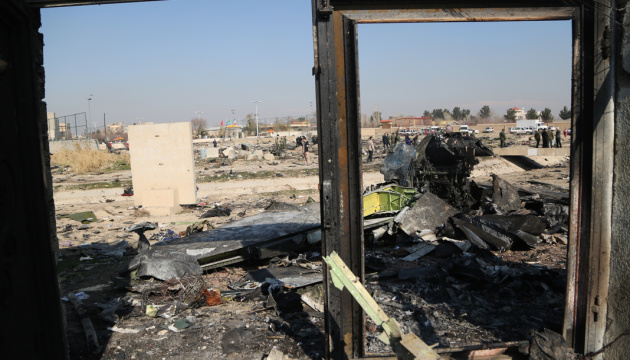 UIA plane crash: Ukraine and Iran plan to hold next round of talks in October
The next round of Ukraine-Iran talks on the investigation into PS752 flight crash is scheduled for October.
"On July 30, 2020, the first round of talks with the delegation of the Islamic Republic of Iran on cooperation in the investigation into UIA's PS752 flight crash took place in Kyiv. The next round of talks is scheduled for October," the press service of the Prosecutor General's Office informs.
Deputy Prosecutor General of Ukraine Giunduz Mamedov stressed the need to establish cooperation between Ukrainian and Iranian law enforcement agencies in order to investigate all circumstances of the plane crash promptly and impartially.
"We have enough legal tools for effective two-way communication during the investigation. The Montreal Convention, which standardizes the rules of international air transportation, and bilateral agreements on legal relations; clearly define the rights, obligations, and procedures for cooperation. Therefore, we must find a compromise, and these talks are an opportunity to establish ties," Mamedov said.
The Prosecutor General's Office informed that four requests for international legal assistance had been sent to the Iranian side during the investigation. The parties discussed the proposals of the Ukrainian side in more detail at the first round of talks.
In particular, the creation of a Ukraine-Iran investigative group, the conduct of joint investigative actions in the territory of Iran, examinations, and interrogations were touched upon.
As noted, the visit of the prosecutor of the Military Prosecutor's Office of Iran and the Chief of Staff of the Vice President of Iran to the Prosecutor General's Office of Ukraine is scheduled for Friday.
As reported, Iran's delegation arrived in Kyiv to participate in talks on compensation for the downing of UIA flight PS752.
The Ukraine International Airlines (UIA) plane (flight PS752) heading from Tehran to Kyiv crashed shortly after it took off from the Imam Khomeini International Airport at about 06:00 Tehran time (04:30 Kyiv time) on January 8. There were 176 people on board – nine crew members (all Ukrainians) and 167 passengers (citizens of Ukraine, Iran, Canada, Sweden, Afghanistan, Germany, and the UK). All passengers and crew were killed in the crash.
On July 18, France's Civil Aviation Safety Investigation Authority (BEA) received Flight PS752's recorders from Iran.
On July 24, Deputy Foreign Minister of Ukraine Yevhenii Yenin informed that the transcript from Flight PS752's recorders had confirmed illegal interference with the plane.
ol