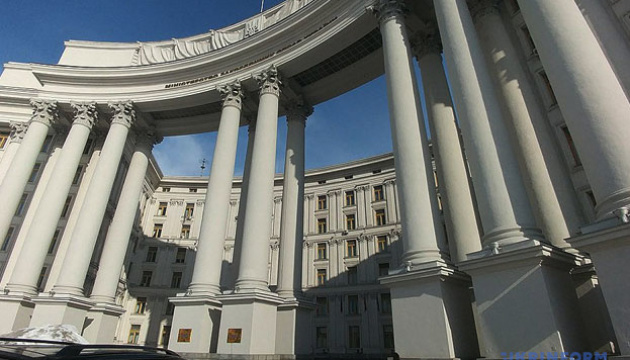 Russia's statement on Zelensky's first year as president a telling example of disinformation – Ukrainian Foreign Ministry
Russia, after commenting on the first anniversary of Ukrainian President Volodymyr Zelensky's inauguration, has made another attempt to interfere in Ukraine's internal affairs, the Ukrainian Foreign Ministry has said in a statement.
"A comment by the Information and Press Department of the Russian Foreign Ministry regarding the first anniversary of Volodymyr Zelensky assuming the office as President of Ukraine constitutes yet another attempt by Russia to interfere in Ukraine's internal affairs, to impose a distorted interpretation of reality, to split up the Ukrainian society and divert attention from its own responsibility under international law for the aggression against Ukraine," the statement reads.
It notes that accusations against Ukraine of pursuing a state policy of Russophobia and exacerbating tensions in relations with Russia are one of the telling examples of disinformation.
According to the ministry, the true cause of ruining cooperation between the two states is Russia's ongoing armed aggression against Ukraine, the occupation of Ukrainian territories by Russia, and the illegal detention of Ukrainian citizens by Russia.
"The hostile language of the Russian Foreign Ministry's comment contains no hint of constructiveness and casts doubt on the readiness of the Russian side for a diplomatic resolution," the statement reads.
Instead, Ukrainian diplomats said that Ukraine "takes the constructive stance in the Normandy format and the Minsk process, and strives for conflict resolution by diplomatic means, bringing forward relevant initiatives." A new delegation of Ukraine to the Trilateral Contact Group and its constructive stance at the latest TCG meeting are among the most recent evidence of such an approach, the ministry said
"We expect Russia to change its propaganda rhetoric and move to the constructive cooperation aimed at de-occupying certain areas of Donetsk and Luhansk regions as well as Crimea," the Ukrainian Foreign Ministry said.
op