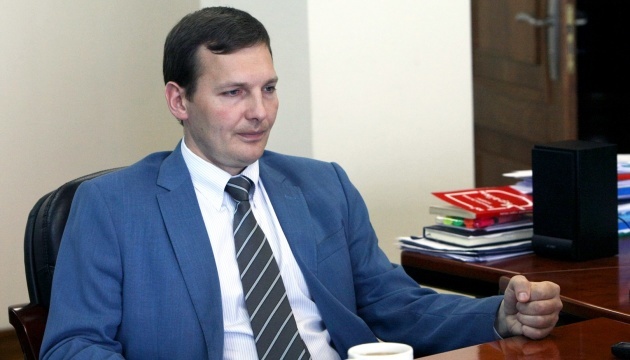 Capture of sailors: Foreign Ministry to file memorandum at ITLOS on May 22
On May 22, the Ministry of Foreign Affairs of Ukraine will file a memorandum over the capture of sailors and ships in the Kerch Strait in November 2018 at the International Tribunal for the Law of the Sea
"First of all, I would like to dispel all the conspiracy theories of betrayal that have been shared on the network recently: we work at this case against Russia in full, no trial has been stopped, all materials for court hearings are being prepared, the team is working excellently. On May 22, Ukraine has to file its memorandum within the case against Russia over capture and detention of three Ukrainian ships and 24 crewmembers. We will announce the details on the day of submitting the memorandum," Deputy Foreign Minister of Ukraine Yevhenii Yenin said in a commentary to Ukrinform.
He assured that the work on the document continued according to the schedule.
"Last week we had a very fruitful meeting with Ukraine's legal advisers – we synchronised watches, discussed strategic and tactical steps in our joint struggle against the Russian Federation. At the moment we are finalizing the text of the memorandum and completing the evidence collection process," Yenin said.
In this context, he recalled that on April 1, 2019, Ukraine notified the Russian Federation of the dispute and the grounds of the claim, on the basis of which the constitution of an arbitral tribunal was initiated as provided by the UN Convention on the Law of the Sea. The Ukrainian side then appealed to the ITLOS to apply interim measures against Russia, and almost a year ago, on May 25, 2019, it ordered Russia to release the ships and crewmembers immediately.
"But we do not stop, although our sailors and our ships returned home. Our goal is a clear decision of the tribunal on Russia's violation of international maritime law. Moreover, we want to get assurances from Russia that it will refrain from such violations, and we want Russia to pay appropriate compensation to sailors, the Navy, and Ukraine," Yenin stressed.
The deputy minister said that Russia would have three months after May 22 to express its objections to jurisdiction.
The final judgment in this case is expected in mid-2023, he noted.
As reported, on November 25, 2018, Russian border guards fired on and seized three Ukrainian Navy ships, the Berdyansk, the Nikopol, and the Yany Kapu, heading from Odesa to Mariupol, near the Kerch Strait. In addition, their crewmembers, 24 Ukrainian sailors, were captured. Three of them were wounded. A Russian-controlled court in the occupied Crimea arrested the detained Ukrainian sailors on charges of alleged illegal border crossing.
On September 7, 2019, Ukrainian sailors returned home as part of Ukraine-Russia prisoner exchange.
On November 18, 2019, the Russian Federation returned the Berdyansk, the Nikopol, and the Yany Kapu ships to Ukraine in the Black Sea waters.
ol