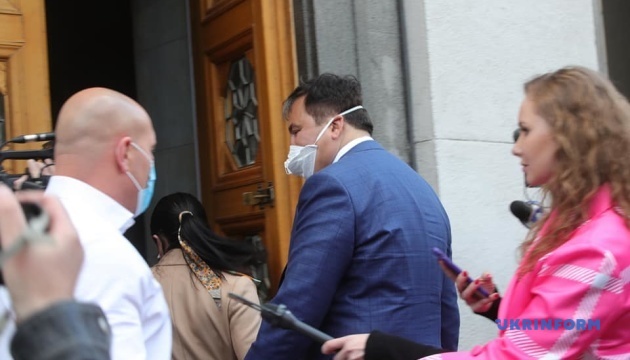 Georgia considers Saakashvili's appointment unacceptable, but retains partnership with Ukraine
Ambassador of Georgia to Ukraine Teimuraz Sharashenidze held a meeting at the Ukrainian Foreign Ministry before leaving Kyiv and informed the Ministry about the position of Georgia in connection with the appointment of former Georgian president Mikheil Saakashvili.
"It is unacceptable that a person convicted in Georgia is appointed to a political post in a country that is a strategic partner. As for relations with Ukraine, the Georgian side will make every effort to maintain partnership relations with Ukraine and even deepen them. Our Ukrainian partners share this position. We have common views on the most important issues for us, such as Euro-Atlantic integration, de-occupation, strengthening democratic institutions, and we enter the international arena with this unity," Sharashenidze told Georgia's First Channel.
As the Ambassador noted, the Ukrainian side said at the meeting that Mikheil Saakashvili was a citizen of Ukraine but the Ukrainian Foreign Ministry had understood the position of official Tbilisi and expressed hope for further continuation and deepening of bilateral partnership.
As reported, on May 7, President of Ukraine Volodymyr Zelensky appointed Mikheil Saakashvili as the Chairman of the Executive Committee of the National Reforms Council.
On May 8, Minister for Foreign Affairs of Georgia David Zalkaliani announced that, by the decision of Georgia's Government, Georgian Ambassador Extraordinary and Plenipotentiary to Ukraine Teimuraz Sharashenidze would be summoned for consultations in Tbilisi after the appointment of Saakashvili.
In January 2018, the Tbilisi City Court found Saakashvili guilty of abuse of office in Sandro Girgvliani case and sentenced the former president to three years in prison. According to the investigation, in 2009, the then President of Georgia Saakashvili bypassed the Pardon Commission and illegally pardoned four employees of the Constitutional Security Department convicted for the murder of Girgvliani.
The Supreme Court of Georgia upheld the ruling.
ol