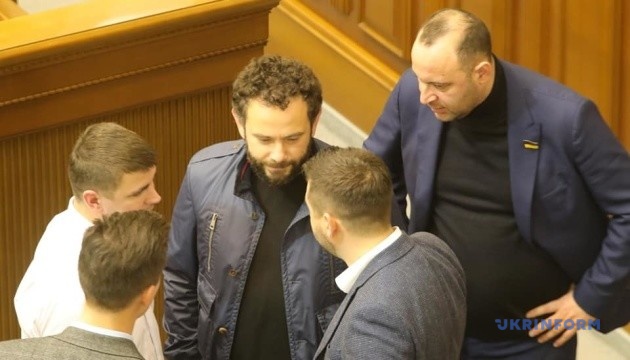 MP Dubinsky names possible candidates for ministers
MP Oleksandr Dubinsky has named possible candidates for the posts of Ukraine's ministers who were discussed at a meeting of the parliamentary faction of the Servant of the People party.
He told this to journalists after the meeting of the faction on Tuesday, March 3.
"The Ministry of Economy – [Roman] Zhukovsky, the Ministry of Agriculture – [Tymofiy] Mylovanov, the Ministry of Finance – [Ihor] Umansky, the Ministry of Digital Transformation – [Mykhailo] Fedorov, the Ministry of Foreign Affairs – [Dmytro] Kuleba, the Ministry of Justice – [Denys] Maliuska, the Ministry of Defense – [Andriy] Taran, the Ministry of Social Policy – [Maryna] Lazebna, the Ministry of Youth and Sports – [Vadym] Guttsayt. Other [candidates] are being discussed. We discussed the personal composition of the Cabinet of Ministers and tomorrow's report by law enforcement agencies. Five security officials will deliver their reports, and a decision on them will be them made," Dubinsky said.
He noted that Minister of the Cabinet of Ministers Dmytro Dubilet would also be dismissed, but the candidacy of his successor is still under discussion.
On February 28, Ukrainian President Volodymyr Zelensky sent a letter to Parliament Speaker Dmytro Razumkov demanding that he convene a special parliament meeting.
The speaker called such a meeting for 16:00 on March 4, 2020.
The agenda of the parliament meeting envisages the consideration of six issues, including the issue of "the Cabinet of Ministers of Ukraine."
op