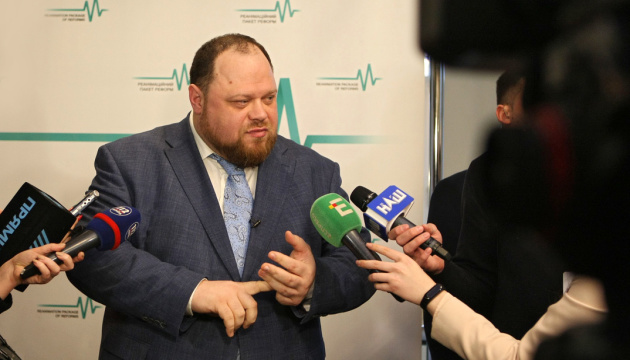 President Zelensky to attend parliament's special meeting - Stefanchuk
President of Ukraine Volodymyr Zelensky intends to attend an extraordinary meeting of the Verkhovna Rada scheduled for Wednesday, March 4.
First Deputy Verkhovna Rada Chairman Ruslan Stefanchuk stated this during the Svoboda Slova talk show on ICTV channel on Monday evening, according to an Ukrinform correspondent.
"Will there be the president? I've just spoken to him, he said: 'Yes, I will [attend the meeting]'. And this is absolutely normal, because the president also wants to see in which way the things, which he had the right to initiate, are being implemented now," said Stefanchuk.
As reported, President Volodymyr Zelensky on February 28 sent a letter to Verkhovna Rada Chairman Dmytro Razumkov calling on him to convene an extraordinary meeting of the parliament. The meeting is scheduled for 4 p.m. on March 4.
During the VR extraordinary meeting, MPs plan to consider bill No.3003P "On the approval of the Ukrainian president's decision on the admission of units of the armed forces of other states to the territory of Ukraine in 2020 to participate in multinational exercises", bill No.3015P "On amendments to section VI 'Final and transitional provisions' of the law 'On the National Security of Ukraine' regarding the entry into force of the provisions on the Commander-in-Chief of the Armed Forces of Ukraine, the General Staff of the Armed Forces of Ukraine, types and separate genders to troops", etc.
Also, MPs are expected to consider the issues on the Cabinet of Ministers of Ukraine and on the activities of the Interior Ministry, the Security Service, the National Bureau of Investigation, the National Anti-Corruption Bureau, the Office of the Prosecutor General in the field of combating corruption in Ukraine and strengthening the rule of law.
iy