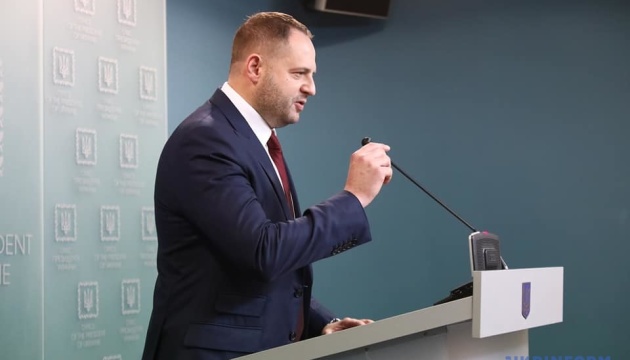 Yermak, Kozak discuss all-for-all prisoner swap
Head of the Office of the President of Ukraine Andriy Yermak discussed a prisoner swap with Deputy Head of the Administration of the President of Russia Dmitry Kozak at a meeting in Minsk.
"During the meeting, the parties discussed the issue of the mutual release of detained persons in all-for-all format, agreed on by the Normandy format leaders at the meeting in Paris in December 2019," the Office of the President of Ukraine posted on Telegram.
Yermak, in particular, indicated his intention to conduct the next swap in March.
The parties underscored the need to continue negotiations in order to fully implement the agreements reached during the Normandy format summit.
Representatives of Ukrainian and Russian delegations also took part in the negotiations.
As reported, the President of France, the Chancellor of the Federal Republic of Germany, the President of the Russian Federation and the President of Ukraine at the Normandy format summit in Paris on December 9, in particular, agreed that the parties would take measures to encourage the Trilateral Contact Group to contribute to the release and exchange of the conflict-related prisoners in the "all-for-all" format by the end of the year beginning with "all identified for all identified" with the understanding that the international organizations, including the International Committee of the Red Cross (ICRC), will be given full and unconditional access to all detained persons.
The participants in the Trilateral Contact Group reached an agreement during a videoconference on December 23 on the conduct of the prisoner swap by the end of the year. On December 29, the prisoner swap took place at the Mayorske entry-exit checkpoint in Donetsk region. Seventy-six captives returned to the government-controlled territory of Ukraine. Four people held captive in the occupied Donbas refused to be exchanged.
ol