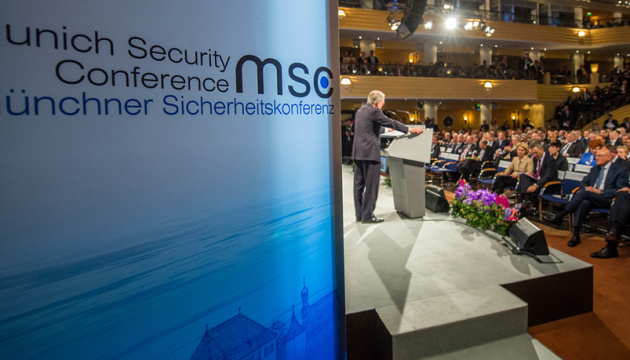 Munich conference: Conflict in Ukraine a threat to stability in Euro-Atlantic region
The war in Ukraine not only makes it impossible to normalize the dialogue between Kyiv and Moscow but also poses a threat to security in the Euro-Atlantic region, according to a statement by the Euro-Atlantic Security Leadership Group (EASLG) issued at the Munich Security Conference (MSC) on February 14.
"The conflict in and around Ukraine is a tragedy for all affected by the violence. It is a flashpoint for catastrophic miscalculation and is a continuing threat to security and stability in the Euro-Atlantic region," the statement reads.
It notes that a political resolution is fundamental to ending the armed conflict in the Donbas region, to improving prospects for constructive Ukraine-Russia dialogue more broadly including on Crimea, and to improving Euro-Atlantic security.
According to the authors of the statement, action to help those in harm's way and to establish a foundation that resolves the conflict must be taken now to address urgent security, humanitarian, economic, and political concerns. Such action also will help reduce tensions between Russia and the West and help build a sustainable architecture of mutual security in the Euro-Atlantic region, including enhanced cooperation on nuclear threat reduction.
Recent developments have opened the way for progress. Those changes include in 2019 the mutual release of prisoners and an agreement to define additional areas for disengagement of forces, the October agreement on a process for elections in Donetsk and Luhansk and special status for these regions once the elections are certified as free and fair by the Organization for Security and Cooperation in Europe (OSCE), and the December Paris Summit in the Normandy format between France, Germany, Russia, and Ukraine.
"In 2020, a further meeting in the Normandy format, ongoing work of the Trilateral Contact Group, and other diplomatic exchanges provide opportunities to move forward on ending a war that, over the past six years, has killed more than 13,000, wounded more than 25,000 and forced 2.5 million people from their homes. This opening must not be missed," the statement reads.
The 56th Munich Security Conference will be held from February 14 to February 16. It will focus on conflict and disarmament, climate and health issues. According to the chairman of the conference, Wolfgang Ischinger: "Ukraine remains an important issue of the European security policy."
op