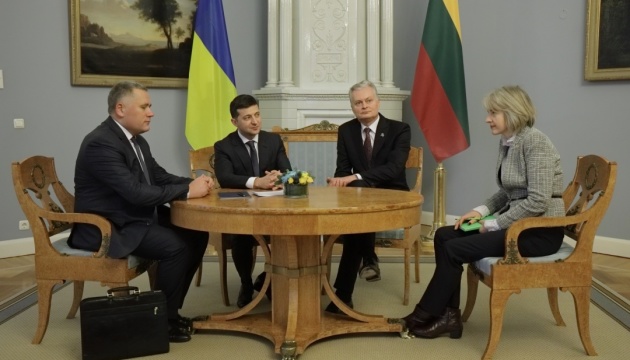 Lithuanian President Nausėda reaffirms need to continue sanctions against Russia
Lithuanian President Gitanas Nausėda has reaffirmed the need to continue European sanctions against Russia imposed for its aggression against Ukraine.
He stated this at a joint press conference with Ukrainian President Volodymyr Zelensky in Vilnius on Wednesday, November 27, an Ukrinform correspondent reports.
"The presidents discussed defense and security issues, the situation in Eastern Ukraine, preparations for the Normandy Four meeting, and relations with Russia. President Nausėda assured that there would be no change in the sanctions against Russia until the Minsk agreements were implemented and the annexation of Crimea continued," reads the statement on the website of the Lithuanian president.
In addition, the presidents agreed to enhance cybersecurity cooperation and engagement with the Lithuanian-Polish-Ukrainian Brigade. The initiative to strengthen cooperation is evidenced by two inter-institutional declarations signed by the presidents. One defines cooperation in cybersecurity and the other – electronic identification. A cooperation agreement on youth and children's rights was also initiated.
"The President of Ukraine and I agreed on the need to pursue long-term ambitious goals of the Eastern Partnership Initiative. Lithuania supports Ukraine's increased sectoral integration with the EU in areas such as energy, the digital economy, law and domestic policy. We also look forward to closer cooperation on customs issues," Nausėda added.
The president assured that Lithuania actively supported and would support the sustainability and irreversibility of Ukraine's reforms and called for their implementation in accordance with the principles of good governance, transparency and the rule of law.
The presidents' meeting also focused on strategic energy and transport projects, nuclear safety, gas interconnections with the EU and renewable energy. The progress of organizing the Ukraine Reform Conference on July 6-7, 2020, in Vilnius was also discussed.
ish