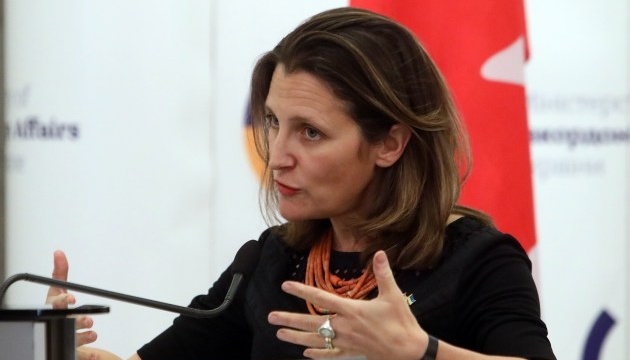 It's not about diaspora: Freeland explains why Canada supports Ukraine
Canada strongly supports Ukraine as the country is at the forefront of defense of the rules-based international order.
"Although I am very proud of the role of the Ukrainian community in Canada, it is very important for me as the Foreign Minister to emphasize that Canada supports Ukraine's independence, sovereignty and territorial integrity not due to the presence of a fantastic Ukrainian-Canadian community. We support Ukraine because of the important principles it fights for," Minister of Foreign Affairs of Canada Chrystia Freeland stated, an Ukrinform correspondent reports.
She stressed that Ukraine is now at the "forefront of the struggle between democracy and authoritarianism."
"Modern Ukraine is the country where the struggle is ongoing and the future of the rules-based international order and genuine democracy in the world will be determined. That is why, support for Ukraine in its fight is an integral part of Canada's foreign policy," the Canadian Foreign Minister said.
Freeland noted that Ukraine managed to withstand as an independent democratic state but is still in grave danger. "Support for Ukraine does not reduce itself to Ukrainian Canadians. It concerns the principles of democracy and international law," the diplomat summed up.
ol