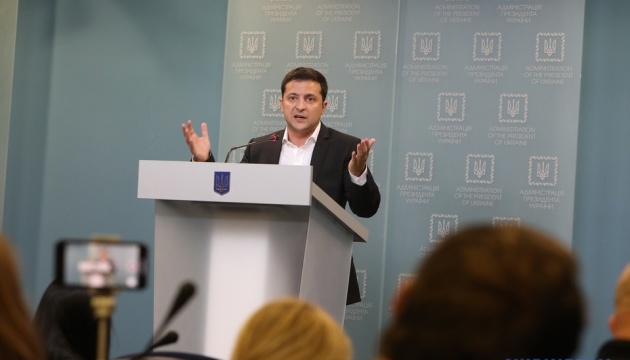 President Zelensky: We agree on wording of 'Steinmeier formula'
Ukraine has responded to a letter from Special Representative of the OSCE Chairperson-in-Office in the Trilateral Contact Group Martin Sajdik that the wording of the so-called "Steinmeier formula" is being agreed on.
"We have responded to Mr Sajdik's letter that we are agreeing on the wording of the Steinmeier formula," President of Ukraine Volodymyr Zelensky said at a briefing on Tuesday, Ukrinform correspondent reported.
At the same time, he explained the essence of the plan.
"I want to speak particularly, by the way, about the biggest 'horror story' of recent weeks called the 'Steinmeier formula.' What does this formula mean? It's one, basically, two sentences. That's it. It stipulates that a temporary law on special order of local self-government in certain areas of Donetsk and Luhansk regions, also known in the society as the "law on the special status of Donbas" begins to operate on a permanent basis, provided that... when the local elections are conducted there in accordance with the Constitution of Ukraine and the legislation of Ukraine, as well as after the OSCE publishes a report indicating that the elections are held in accordance with the OSCE and international standards of democratic elections," Zelensky stressed.
In this context, he emphasized that "no elections can be held and will be held at the barrel of machine guns."
The President also said that the last obstacles to the Normandy Four summit had been eliminated and the summit's date would be announced shortly.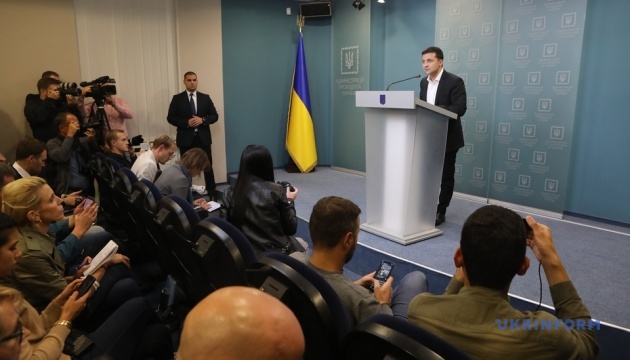 Zelensky previously stated that the Steinmeier formula and all provisions of the Minsk agreements would be considered at the Normandy Four summit.
Ukrainian volunteers, participants in military operations in Donbas, activists, public and political figures have strongly criticized the possibility of adopting of "Steinmeier formula." On September 17, they signed an appeal to President Zelensky and outlined the "red lines" of domestic and foreign policy that must not be crossed.
On September 21, presidential aide Andriy Yermak announced that the "Steinmeier formula" would form the basis of the bill which would be submitted for public discussion.
ol