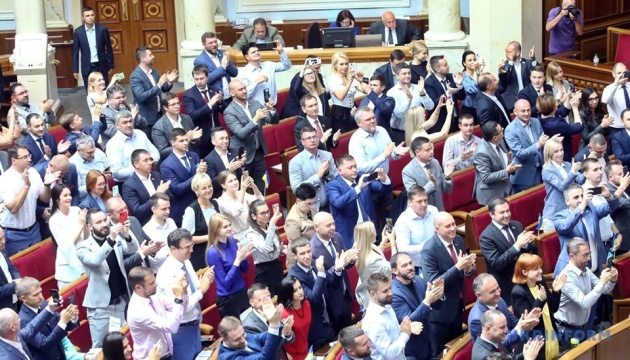 Parliament passes bill to reform Procurator's Office
The Verkhovna Rada of Ukraine at first reading approved the presidential bill on amendments to certain legislative acts of Ukraine regarding the prime measures to reform prosecution agencies (No.1032).
A total of 287 MPs voted in favor of the relevant draft law at a parliament meeting on Tuesday, an Ukrinform correspondent reported.
In particular, the bill provides for the liquidation of the Chief Military Prosecutor's Office, the creation of a new Office of the Prosecutor General. According to the document, all current prosecutors must pass certification. Also, the bill envisages the reduction in the number of prosecutors from 15,000 to 10,000 and the following increase in salaries of prosecutors.
At the same time, the bill empowers the prosecutor general to create specialized prosecutor's offices, if necessary, as structural units of the Office of the Prosecutor General, regional prosecutor's offices, and district prosecutor's offices.
Also, the draft law allows the Prosecutor General to approve the development strategy of the Office of the Prosecutor General; a system for assessing the quality of work of prosecutors; the procedure for measuring and regulating the burden on prosecutors; a procedure for considering appeals against the execution by the prosecutor who occupies an administrative position of the duties established for the corresponding administrative position etc.
The powers of the qualification and disciplinary commission of prosecutors are planned to be temporarily suspended until September 1, 2021.
As Ukrinform reported, the Law Enforcement Committee of the Verkhovna Rada on September 10 recommended that presidential bill No. 1032 on the reform of prosecution bodies be approved as a basis and as a whole.
iy