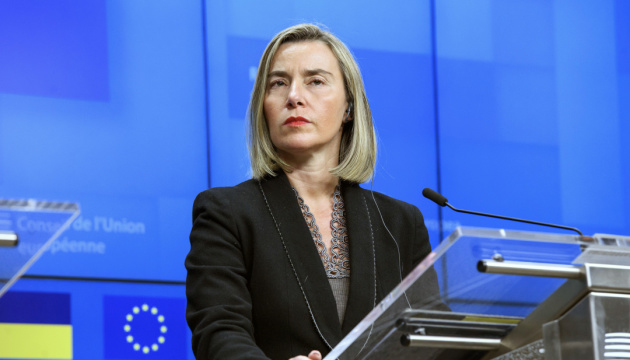 EU provides Ukraine with largest support package in history – Mogherini
The European Union has provided Ukraine with the largest support package in its history, which helped the country avoid collapse and actively develop over the past five years.
High Representative of the European Union for Foreign Affairs and Security Policy Federica Mogherini said this in her speech at the EU Ambassadors' Conference 2019 in Brussels on Monday.
"In these five years, we have put together for Ukraine the largest support package in the history of the European Union. It is thanks to that if the country has not collapsed and has managed to move on and try to get out of this crisis today on a new basis. Despite immense challenges Ukraine today is a much stronger country than it used to be. I remember in 2014, a dramatic year when I started, we were definitely not in the same place," the EU High Representative said.
She emphasized that in these five years the current European External Action Service had changed. "In these years, we have shifted the focus on preventing crises, tackling the long terms effects, and also on investing in the positive stories around the world. We have put resilience at the core of our action, to make states and societies more capable of absorbing external and even internal shocks," she noted.
"I could make many examples but I will only name one right here on our continent. The crisis in Ukraine is still not over, but in these five years, Ukraine has come a very long way and it is today a much more resilient country than it was five years ago. Our work with Ukraine has very strong security component - rightly so but – we have also immensely invested in the country's human development. We have helped create jobs, build and rebuild infrastructure, we have liberalised access to the European Union, invested in exchanges between our people, between our universities," Mogherini said.
ish