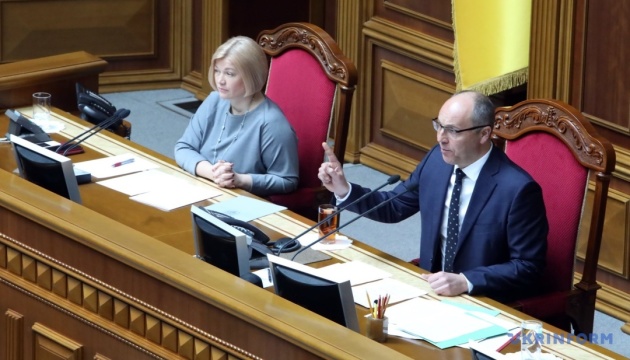 Parliament may consider impeachment bill on May 29
Verkhovna Rada Chairman Andriy Parubiy has said that President Volodymyr Zelensky has three more days to table in parliament his bill on impeachment, otherwise the parliament will consider a draft law submitted by deputies.
The speaker said this at a meeting of the conciliation council on Monday, according to an Ukrinform correspondent.
"I want to emphasize that the president has three more days to submit his version [of the impeachment bill]. If his version is not submitted, we will not wait indefinitely. We will begin to consider a parliamentary bill at second reading," Parubiy said.
He said that the parliament does not consider a separate bill on impeachment and that this clause is contained in a draft law on interim investigating commissions.
"I remind my dear colleagues that we are not considering a separate bill on impeachment. We are considering a [draft] law on interim investigating commissions. The clause on impeachment is also envisaged in the structure of this bill, as it is also done by the investigating commission," Parubiy said.
The speaker added that on Wednesday, May 29, the parliament's concerned committee would switch to the consideration of this bill.
On April 25, the Verkhovna Rada adopted at first reading the bill No. 1098 "On Interim Investigating Commissions and Interim Ad Hoc Commissions of the Verkhovna Rada of Ukraine." A total of 238 people's deputies voted for a respective decision. The bill was registered in parliament in November 2014.
The bill proposes regulating the legal status and procedure of the work of interim investigating commissions and interim ad hoc commissions.
op