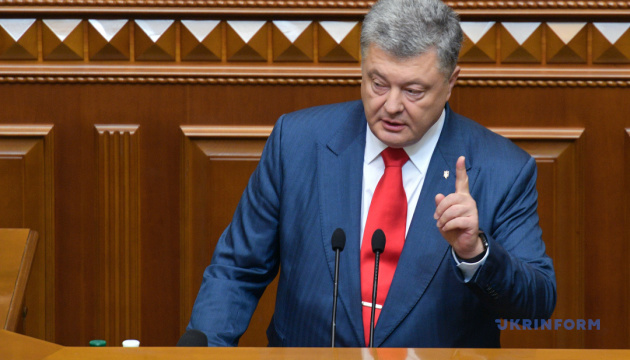 Poroshenko calls on Rada to back Ukraine's course for EU, NATO membership
President Petro Poroshenko has said he hopes that the Verkhovna Rada, Ukraine's parliament, will support amendments on securing in the Constitution the country's course for accession to the European Union and NATO.
He stated this at an annual reception of the member companies of the American Chamber of Commerce in Ukraine in Kyiv on Tuesday, February 5, the press service of the head of state reported.
"I am optimistic about the amendments to the Constitution. I am confident that the country is capable of taking away any contradictions, even in the context of the electoral process. And I hope that the day after tomorrow [on February 7], the Verkhovna Rada will support in the second reading the amendments to the Constitution, which oblige the Ukrainian authorities to ensure Ukraine's accession to the two powerful international alliances," Poroshenko said.
He called on deputies to make the right choice on this issue.
"I was advised not to mention the voting today, which the Verkhovna Rada of Ukraine will carry out on Thursday, this week, but I want to appeal again to everyone, emphasizing how important it is. Unfortunately, some political forces today announce their intention to change the point of view, abstain from voting, because they are hindered by tariffs or anything. [...] Friends, we need to think globally. We need to understand the strategy for the development of our state," he added.
According to him, Russia will try to disrupt Ukraine's plans.
"It is possible that Russia will intensify efforts to disrupt that. But just as it has not happened in the past four-and-a-half years, I hope it will not happen now. And this moment of truth will show the price of each politician and each political force. And I am sure that the unity and work of Ukrainians have refuted any expectations of our northern neighbor, any pessimistic forecasts. And I am convinced and firmly believe in our victory," the president said.