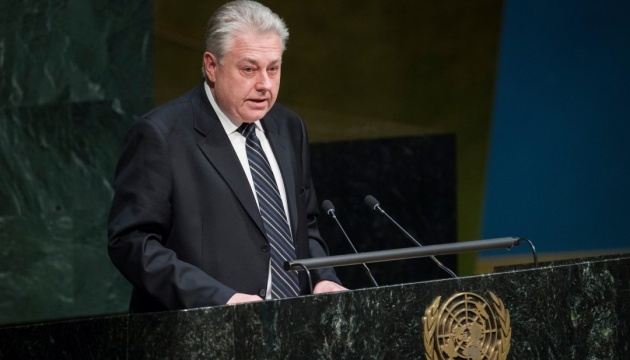 Ukraine at UN provides evidence of Russia's violations of international law in Azov and Black Seas
Ukraine's delegation has informed UN member states of Russia's consistent and gross violations of international law in the Sea of Azov and the Black Sea, the Permanent Mission of Ukraine to the United Nations has reported.
"UNCLOS [the United Nations Convention on the Law of the Sea] provides Ukraine with exclusive rights to the living resources within its territorial sea and exclusive economic zone. Since 2014, the Russian Federation has deliberately and blatantly violated those rights in the Black Sea, the Sea of Azov and the Kerch Strait," Ukraine's Permanent Representative to the UN Volodymyr Yelchenko said, while addressing the UN General Assembly on December 11.
He informed the audience that in February 2018, Ukraine filed a Memorial with the UNCLOS Tribunal establishing that Russia has violated Ukraine's sovereign rights in the Black Sea, the Sea of Azov, and the Kerch Strait.
"Through these violations of international law, Russia is stealing Ukraine's energy and fisheries resources, harming the livelihoods of Ukrainian fishermen, and blocking traffic to Ukrainian ports with its illegal bridge over the Kerch Strait, among other serious violations," he said.
The diplomat also emphasized that since April 2018, more than 200 vessels have been discriminately stopped by Russia in violation of fundamental obligation under UNCLOS. He added that the Russian Federation did not stop on that and engaged in "new horrible violations of UNCLOS." "Just 2 weeks ago, Russia attacked, seized and detained Ukrainian navy vessels in Ukraine's exclusive economic zone," Yelchenko added.
"Ukraine believes that Russia must and will be held accountable for its serious breaches of the international law of the sea," the Ukrainian diplomat said.
op