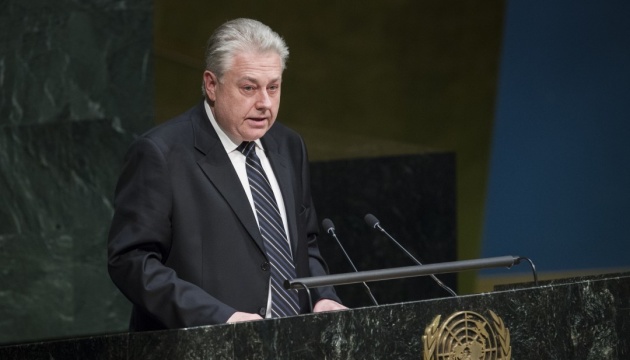 Russia supplies weapons to its forces through Sea of Azov - Yelchenko
Russia's actions in the Sea of Azov are not limited to obstacles to international navigation, and the Russian Federation is also using this channel to conceal supplies of weapons for its own forces in Donbas.
Ukraine's Permanent Representative to the United Nations Volodymyr Yelchenko said this at a briefing of the UN Security Council on Ukraine in New York on Tuesday, an Ukrinform correspondent reports.
"Russia also uses the Sea of Azov as an additional channel to supply its forces in Donbas with weapons from the occupied territory of Crimea," he said.
According to him, Russia has not given up the idea of creating a land corridor to Crimea.
"Furthermore, the threat of a maritime assault from the Azov direction in case of a large-scale military confrontation remains a source of security destabilization in the Donetsk region," Yelchenko said.
Ukraine's representative emphasized that the Azov Sea has turned into another theater of belligerent Russian actions against Ukraine.
"In the last six months, the Russian Federation stopped in an abusive manner over 200 vessels bound for Ukrainian ports of Mariupol and Berdiansk. As confirmed by the OSCE SMM, these interruptions to commercial shipping caused economic and trade disruptions resulting in commercial losses for the ports employing thousands of people," the Ukrainian diplomat said.
Such actions by Russia "are inconsistent with its obligations under the UN Convention on the Law of the Sea and breach the navigational rights of Ukraine and of the flag States of the stopped vessels." At the same time, he noted, vessels bound for Russian ports in the Sea of Azov have not been subjected to similarly disruptive stoppages.
In addition, Yelchenko mentioned the obstacles to international navigation created by the illegally constructed bridge through the Kerch Strait. The bridge is only 35 meters high, and only vessels with an air draft of less than 33 meters and a length of less than 160 meters may safely pass under it.
"As a result, Panamax vessels and many Handymax vessels are now prevented from transiting the Kerch Strait. This has had a major impact on traffic to Ukraine's ports," he said.
op