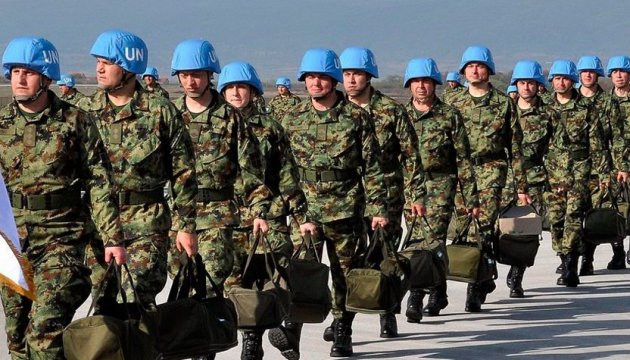 President: Deployment of peacekeeping mission in Donbas reaches 'Moscow's deadlock'
Most members of the United Nations Security Council support the Ukrainian initiative for deployment of a peacekeeping mission in Donbas.
"The United States, the United Kingdom, France - three of five permanent members of the UN Security Council – stand with us. We have an intensive dialogue with China, which will not oppose certainly. Most of the UN Security Council members also support us as evidenced by the talks I held yesterday and the day before. The Russian Federation is the only one country which is against [deployment of peacekeeping mission]," President of Ukraine Petro Poroshenko said, speaking at the celebrations on the occasion of the 25th anniversary of establishment of the National Academy of Legal Sciences in Kharkiv, an Ukrinform correspondent reports.
Solution to the issue of deployment of UN peacekeeping mission has reached "Moscow's deadlock", Poroshenko stressed.
At the same time, the President reminded that Ukraine, the United States, Germany and France had a common vision for such a mission and were ready to "almost immediately" submit a joint resolution to the UN Security Council for consideration. At the same time, Poroshenko noted that if Russia used its veto power, it would defy the international community and further strengthen its isolation.
According to the Head of State, the UN peacekeeping mission in Donbas, as Ukraine insists, will significantly reduce the risk of military conflict escalation in eastern Ukraine and prevent Russia and mercenaries from delivering weapons.
ol