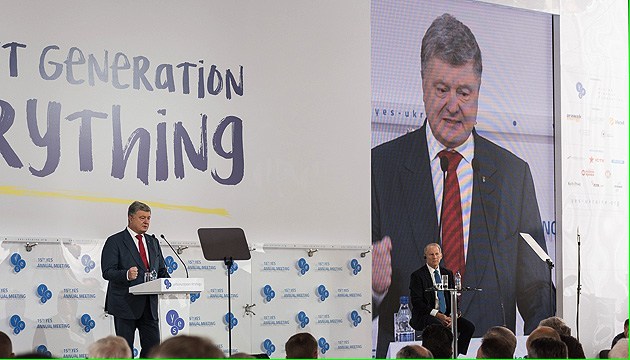 No country will decide on Ukraine's state system - president
Ukraine is a unitary state, and no foreign country will decide on its state system, President Petro Poroshenko has said.
According to an Ukrinform correspondent, the head of state said this at the 15th Annual Meeting of Yalta European Strategy (YES) in Kyiv on Friday.
"Ukraine is a unitary state and will never accept external pressure aimed at changing the structure of our country. Neither Russia, nor Moscow, nor Brussels, nor Washington will decide what Ukraine should be like. This is a sovereign right of Ukrainian citizens," Poroshenko said.
He also said that in Minsk, when the agreements were signed in 2015, there was no talk of either political autonomy or federalization of Ukraine.
At the same time, the head of state said that Ukraine was ready to hold local elections in the Russian-occupied territories of Donetsk and Luhansk regions only if security conditions are implemented.
"We have been waiting for four years when they will be implemented by Russia, but no step, even the smallest one, has been taken [by Russia] to implement the Minsk agreements. Even more so, now new talks are being held on fake elections in the occupied territories," he said.
In his opinion, the only thing that can stop such an attitude from Russia is the decision of the UN Security Council on the deployment of peacekeepers.
According to the president, the next day after UN peacekeepers arrive in Donbas, Russia withdraws its army, and illegal gangs are disarmed, Ukraine will be ready to launch the political process.
On September 11, militants in the occupied territories of Donetsk and Luhansk regions scheduled "elections" for November 11.
The Ukrainian Foreign Ministry stressed that the intentions of the Russian occupation administration to hold so-called extraordinary elections in the temporarily occupied territories of the Donbas grossly violate Russia's obligations as a party to the Minsk agreements.
op